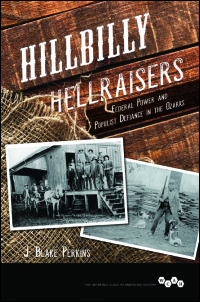 Hillbilly Hellraisers
Federal Power and Populist Defiance in the Ozarks
How Ozark residents have seen and lived resistance to the federal government
Long a bastion of antigovernment feeling, the Ozark region today is home to fervent strains of conservative-influenced sentiment. Does rural heritage play an exceptional role in the perpetuation of these attitudes? Have such outlooks been continuous?
J. Blake Perkins searches for the roots of rural defiance in the Ozarks--and discovers how it changed over time. Eschewing generalities, Perkins focuses on the experiences and attitudes of rural people themselves as they interacted with government from the late nineteenth century through the twentieth century.He uncovers the reasons local disputes and uneven access to government power fostered markedly different reactions by hill people as time went by. Resistance in the earlier period sprang from upland small farmers' conflicts with capitalist elites who held the local levers of federal power. But as industry and agribusiness displaced family farms after World War II, a conservative cohort of town business elites, local political officials, and midwestern immigrants arose from the region's new low-wage, union-averse economy. As Perkins argues, this modern antigovernment conservatism bore little resemblance to the backcountry populism of an earlier age but had much in common with the movement elsewhere.
---
"This is a very good book about the roots of resistance and rebellion in the Arkansas Ozarks in response to federal government attempts to effect social and economic change in the region from the late 19th to the early 21st century. . . . Highly recommended."--OzarksWatch

"Perkins produces an engaging political history of the communities in the Ozark Mountain region of northwest Arkansas. . . . While steeped in local history, this book also provides insights into how rural people react to federalism. . . . Highly recommended."--Choice

"Hillbilly Hellraisers represents an important contribution to rural history and a valuable narrative of those who struggled to confront the changes that reshaped the region."--Arkansas Review

"This is an important book, one that fills a much-needed historiographic niche, and one that opens the door for further study into the political culture of not only the Arkansas Ozarks, but rural America as a whole."--Elder Mountain: Journal of Ozark Studies

"Hillbilly Hellraiserschallenges the seemingly uncontroversial claim that antigovernment sentiment has enjoyed exception continuity among rural working-class Americans." --Journal of Appalachian Studies

"Hillbilly Hellraisers challenges the seemingly uncontroversial claim that antigovernment sentiment has enjoyed exception continuity among rural working-class Americans." --Journal of Appalachian Studies

"Perkins should earn applause for his spirited, well researched, provocative study." --Criminal Law and Criminal Justice Book Reviews

"Hillbilly Hellraisers would benefit anyone interested in the roots of US rural poverty and our contemporary politics of division." --Missouri Historical Review

"Perkins has written a smart, provocative, and important book." --Journal of the Gilded Age & Progressive Era

"Perkins writes with verve, humor, and minimal jargon, focusing tightly on his thesis. This insightful addition to the University of Illinois Press's Working Class in American History series makes a welcome contribution to local and regional history." --The Journal of American History

"Put Hillbilly Hellraisers on your bookshelf, next to other works about rural radicalism and conservatism." --American Historical Review

"Perkins has meticulously researched the development of populism and the resulting defiance of the yeomanry of the Arkansas Ozarks. . . . By avoiding generalities, the author breaks through easy stereotypes to arrive at the specific circumstances that led to the development of the conservative Ozarker mindset." --Kansas History

"In an age of deepening political and cultural divisions between the rural and urban sections of the United States, studies that seek to explain the source of rural conservative anti-elite and antigovernment politics are needed more than ever. Perkin's contribution definitely advances our understanding of this phenomenon." --Labor

"Hillbilly Hellraisers is an important study because it sheds light on the failures of rural reforms that bred discontent. Perkins's detailed investigations uncover highly localized power dynamics, while his century-long scope reveals the broader evolution of resistance to federal power." --Rural History
"Hillbilly Hellraisers is a stunningly original work that manages to clarify the actions of a misunderstood people at the same time that it reasserts complexity into their allegedly simple lives. Blake Perkins reminds us that regional stories have national, even universal, significance, but to truly appreciate that significance we have to first approach the stories of Ozarkers and other regional groups on their own terms and on their own turf. A must-read for anyone studying the Upland South and for those seeking a fuller understanding of the changing nature of antigovernment protest."--Brooks Blevins, author of Ghost of the Ozarks: Murder and Memory in the Upland South

"Using the Arkansas Ozarks as a case study, J. Blake Perkins sheds new light on the rise of antigovernment conservatism in rural America during the twentieth century. Well written and thoroughly researched, his book is a welcome addition to the study of modern politics."--Bruce E. Stewart, author of Blood in the Hills: A History of Violence in Appalachia
This project is supported in part by a grant from the Arkansas Humanities Council and the National Endowment for the Humanities.
---
To order online:
//www.press.uillinois.edu/books/catalog/48brm8tn9780252041372.html
To order by phone:
(800) 621-2736 (USA/Canada)
(773) 702-7000 (International)
Related Titles