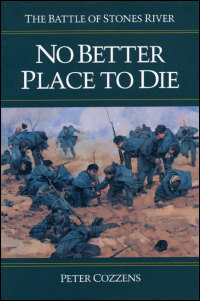 No Better Place to Die
The Battle of Stones River
Awards and Recognition:
Book-of-the-Month Club and History Book Club selections. Honorable mention for Cover Design by the 1991 Mid-American Publishers Association.
A mere handful of battlefields have come to epitomize the anguish and pain of America's Civil War: Gettysburg, Shiloh, Chancellorsville, Chickamauga. Yet another name belongs on that infamous list: Stones River, the setting for Peter Cozzens's No Better Place to Die.
It was here that both the Union and Confederate armies lost over one-quarter of their forces in battle casualties. The Confederacy's defeat at Stones River unleashed a wave of dissension that crippled the army's high command and ultimately closed Tennessee to the South for two years. The loss deterred the British and French from coming to the aid of the South in the Civil War, with tragic effects for the Southern cause.
In the 126 years since the guns fell silent at Stones River, few books have examined the bloody clash and its impact on the war's subsequent outcome. No Better Place to Die recounts the events and strategies that brought the two armies to the banks of this central Tennessee river on December 31, 1862. Cozzens re-creates the battle itself, following the movements and performance of individual regiments. A series of maps clarifies the combat activity.
Cozzens frequently lets the men who fought the battle speak for themselves, through letters, diaries, memoirs, and battlefield communications. Here we learn about such critical moments as General Philip Sheridan's gallant defense along the Wilkinson Pike, one of the war's most tenacious stands against overwhelming odds, and the bravery in battle exemplified by Brekenridge's attack on the Union left, a doomed assault with the poignancy of Pickett's charge.
Over twenty thousand Union and Confederate soldiers were killed, wounded, or captured in the bloody New Year's battle of Stone's River. The impact of their struggle extended far beyond the thousands of shattered human lives, ultimately imperiling the fortunes of the Confederacy. No Better Place to Die pays tribute to the heroes, the scoundrels, the mistakes, the bravery, and the grief at Stone's River.
---
"This will come to be regarded as the major work of record on the battle. . . . Decidedly better than any of the much earlier and more one-sided accounts."--William C. Davis, editor, Historical Times

"Battle history at its best . . . I confidently predict this will become the standard account."--Herman Hattaway, co-author of How the North Won: A Military History of the Civil War
---
To order online:
//www.press.uillinois.edu/books/catalog/48cyw7dc9780252016523.html
To order by phone:
(800) 621-2736 (USA/Canada)
(773) 702-7000 (International)
Related Titles