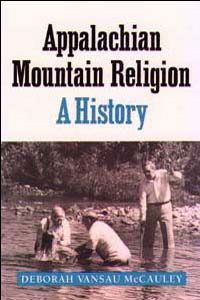 Appalachian Mountain Religion
A History
Awards and Recognition:
Winner of the W. D. Weatherford Award, given by Berea College, 1996.
"A monumental achievement. . . . Certainly the best thing written on Appalachian Religion and one of the best works on the region itself. Deborah McCauley has made a winning argument that Appalachian religion is a true and authentic counter-stream to modern mainstream Protestant religion." -- Loyal Jones, founding director of the Appalachian Center at Berea College
Appalachian Mountain Religion is much more than a narrowly focused look at the religion of a region. Within this largest regional and widely diverse religious tradition can be found the strings that tie it to all of American religious history. The fierce drama between American Protestantism and Appalachian mountain religion has been played out for nearly two hundred years; the struggle between piety and reason, between the heart and the head, has echoes reaching back even further--from Continental Pietism and the Scots-Irish of western Scotland and Ulster to Colonial Baptist revival culture and plain-folk camp-meeting religion.
Deborah Vansau McCauley places Appalachian mountain religion squarely at the center of American religious history, depicting the interaction and dramatic conflicts between it and the denominations that comprise the Protestant "mainstream." She clarifies the tradition histories and symbol systems of the area's principally oral religious culture, its worship practices and beliefs, further illuminating the clash between mountain religion and the "dominant religious culture" of the United States. This clash has helped to shape the course of American religious history.
The explorations in Appalachian Mountain Religion range from Puritan theology to liberation theology, from Calvinism to the Holiness-Pentecostal movements. Within that wide realm and in the ongoing contention over religious values, the many strains of American religious history can be heard.
To order online:
//www.press.uillinois.edu/books/catalog/48gne3gh9780252064142.html
To order by phone:
(800) 621-2736 (USA/Canada)
(773) 702-7000 (International)
Related Titles