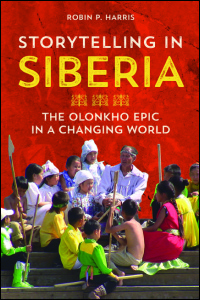 Storytelling in Siberia
The Olonkho Epic in a Changing World
How the Sakha revived a near-extinct art form
Olonkho, the epic narrative and song tradition of Siberia's Sakha people, declined to the brink of extinction during the Soviet era. In 2005, UNESCO's Masterpiece Proclamation sparked a resurgence of interest in olonkho by recognizing its important role in humanity's oral and intangible heritage.
Drawing on her ten years of living in the Russian North, Robin P. Harris documents how the Sakha have used the Masterpiece program to revive olonkho and strengthen their cultural identity. Harris's personal relationships with and primary research among Sakha people provide vivid insights into understanding olonkho and the attenuation, revitalization, transformation, and sustainability of the Sakha's cultural reemergence. Interdisciplinary in scope, Storytelling in Siberia considers the nature of folklore alongside ethnomusicology, anthropology, comparative literature, and cultural studies to shed light on how marginalized peoples are revitalizing their own intangible cultural heritage.
---
"Deeply researched . . . With detailed analysis, Harris describes the changes that olonkho has endured from before the Soviet time, during the Communist regime, through perestroika, up to its present day."--Songlines

"Of relevance to understanding the challenges of cultural reemergence in other parts of the globe, this compelling book informs anthropologists and ethnomusicologists as well as a much broader audience about one of the true masterpieces of the world's oral literature-- its origins, content, and future. Readers witness the interplay of Christian and pre-Christian interpretations, the sad legacy of cultural loss during the Soviet years, and the aspirations of a modern nation to reclaim its vanishing cultural heritage amid a rapidly changing world. . . . Highly recommended."--Choice

"Strong ethnography is what makes Storytelling in Siberia an important text, taking readers to a place little studied, to the particularity of olonkho.--Ethnomusicology Forum

"Harris has crafted a complex and critical evaluation of a cultural-revival project in practice." --The Russian Review

"A most-welcome contribution to the analysis of the problems facing traditional art forms in the modern world." --Journal of American Folklore

"Rich in information about a sonic performance tradition little known in the West, Storytelling in Siberia is an important introduction to both Sakha storytelling and its history. Multidisciplinary in scope." --The World of Music

"Harris accomplished a laudable work. . . . Storytelling in Siberia is an important introduction to both Sakha storytelling and its history." --World of Music
"Robin Harris's up-close and vividly written account of how an epic tradition from Siberia was proclaimed a UNESCO Masterpiece of the Oral and Intangible Heritage of Humanity is a masterpiece of contemporary ethnography in its own right."--Theodore Levin, Dartmouth College

"Ancient artistry comes to us through the trial of centuries. This book gives us hope that the heroic epics of the Yakuts, having survived under Soviet power, will outlive these rapidly changing, turbulent times as well."--Eduard Alekseyev, Academy of Spirituality, Sakha Republic (Yakutia)
Publication of this book was supported by grants from the Andrew W. Mellon Foundation and the L. J. and Mary C. Skaggs Folklore Fund.
---
To order online:
//www.press.uillinois.edu/books/catalog/48mnw6qe9780252041280.html
To order by phone:
(800) 621-2736 (USA/Canada)
(773) 702-7000 (International)
Related Titles