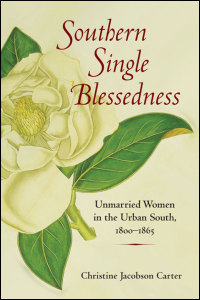 Southern Single Blessedness
Unmarried Women in the Urban South, 1800-1865
The engaging lives that single women led in spite of (or perhaps because of) their "spinsterhood"
In this engaging study, Christine Jacobson Carter uncovers the fruitful and interesting lives of single women--and the attitudes toward them--in the bustling urban centers of nineteenth-century Savannah and Charleston.
Carter's focus is on educated, financially secure white women who joined in the culture's celebration of domesticity even though they had not married. Making effective use of contemporary fiction, advice literature, diaries, and letters to, from, and about single women, Carter shows that such women valued independence and female friendships and were in turn valued for family and community service. She also explores their attitudes toward personal fulfillment, the relationships that sustained (and sometimes tormented) them, and the impact of the Civil War as well as the southern and urban aspects of their public and private identities.
---
"A fascinating and revealing glimpse into the heretofore unexamined lives of antebellum and Civil War era unmarried women. . . . Historians and general readers alike will find Southern Single Blessedness both interesting and worthwhile. . . . A lively and enjoyable read."--Southern Historian

"Carter argues for [southern spinsters'] centrality as 'the glue' that kept 'elite social networks as well as individual families intact.' They were the 'communicators, caretakers, surrogate mothers, family servants, and benevolent women extending feminine virtues to individuals and organizations,' holding kith and kin, and community together. . . And she does so in graceful prose, with strikingly etched portraits of fascinating individuals."--American Historical Review

"The book is engaging and thoughtful and offers something to every reader, especially those who call Charleston home."--The Post and Courier (Charleston, South Carolina)

"Southern Single Blessedness is a great starting point for thinking about the roles of women outside of the family in the South and the greater implications of those roles for understanding antebellum culture."--The Journal of American History

"An intriguing, extensively researched study of affluent, unmarried, white women in nineteenth-century Charleston and Savannah."--The North Carolina Historical Review

"Carter uncovers rich source material. . . . Drawing from the existing historiography on southern white women and from the private writings of elite, single, southern white women, Carter provides a necessary addition to the study of southern women and encourages scholars to continue examining how other dissident groups navigated and negotiated southern ideologies."--Journal of Southern History

"Carter's study fills an important void. She is undoubtedly right that the South's single women found fulfillment in service to their society and families. But surely too, in being put to such good uses, they often felt sadly and sorely used."--Journal of the Early Republic
"A polished, gracefully written, and utterly convincing study on an important topic. Carter uses the book's many fascinating stories about the South's single women to provide compelling and sensible answers to key historiographical questions."--Cynthia A. Kierner, author of Beyond the Household: Women's Place in the Early South 1700-1835

"Southern Single Blessedness is an important study of an overlooked topic. Christine Jacobson Carter shifts the focus of southern women's history from plantation mistresses enclosed within plantation households, isolated in rural outposts, and limited by societal restrictions, to urban spinsters who were integral to the family circle, sustained by same-sex relationships, and at the center of a vital network of female associations. This intriguing study offers scholars a new vantage point from which to explore southern history, women's culture, and the Civil War."--Anya Jabour, author of Marriage in the Early Republic: Elizabeth and William Wirt and the Companionate Ideal
---
To order online:
//www.press.uillinois.edu/books/catalog/48qss6zm9780252030116.html
To order by phone:
(800) 621-2736 (USA/Canada)
(773) 702-7000 (International)
Related Titles