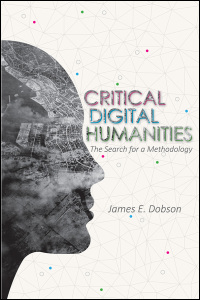 Critical Digital Humanities
The Search for a Methodology
Critical theory, computational science, and a new path of humanistic inquiry
Can established humanities methods coexist with computational thinking? It is one of the major questions in humanities research today, as scholars increasingly adopt sophisticated data science for their work.
James E. Dobson explores the opportunities and complications faced by humanists in this new era. Though the study and interpretation of texts alongside sophisticated computational tools can serve scholarship, these methods cannot replace existing frameworks. As Dobson shows, ideas of scientific validity cannot easily be--nor should be--adapted for humanities research because digital humanities, unlike science, lack a leading-edge horizon charting the frontiers of inquiry. Instead, the methods of digital humanities require a constant rereading. At the same time, suspicious and critical readings of digital methodologies make it unwise for scholars to defer to computational methods. Humanists must examine the tools--including the assumptions that went into the codes and algorithms--and questions surrounding their own use of digital technology in research.
Insightful and forward thinking, Critical Digital Humanities lays out a new path of humanistic inquiry that merges critical theory and computational science.
---
"Dobson provides a thought-provoking overview of critical views on digital humanities. He points repeatedly and with vigor at crucial aspects to consider when doing digital humanities in the tradition of literary criticism." --Journal of Literary Theory

"Critical Digital Humanities is an important corrective to approaches that frame computational data as inviolable, unbiased, and essentially trustworthy. Dobson masterfully combines cultural theory with complex computational approaches and points to areas for further development by digital humanists looking to resist the slide toward scientism, remembering that they are, after all, humanists." --Journal of Folklore Research
"In this artfully crafted, elegantly written monograph, Dobson deploys his acumen as a literary theorist to show how everything touching computational methods from computational logic to algorithmically derived tools is subject in one way or another to the modes of humanistic critique that computational scientists claim to have rendered obsolete. Whereas computational digital humanities claims to be a mode inquiry that would utterly displace humanistic disciplines, the critical digital humanities Dobson explains and practices shows how humanistic critical theory and computational science might be considered complementary rather than antagonistic modes of inquiry."--Donald E. Pease, author of The New American Exceptionalism

"Critical Digital Humanities brings hermeneutic philosophy, literary theory (high and low, surface and deep) to bear on research in the field of digital humanities, from machine learning to sentiment analysis. This book goes beyond mere critique, effectively and thoroughly interrogating the extent to which algorithmic tools extend humanists' interpretive goals. It should be required reading not only for those interested in limits of computational methodologies but also for digital humanities scholars and students who are analyzing digital texts and building digital tools for future research."—Laura Mandell, author of Breaking the Book: Print Humanities in the Digital Age
Publication of this book was supported by funding from Dartmouth College.
---
To order online:
//www.press.uillinois.edu/books/catalog/48xfp2zp9780252042270.html
To order by phone:
(800) 621-2736 (USA/Canada)
(773) 702-7000 (International)
Related Titles