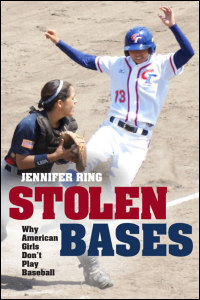 Stolen Bases
Why American Girls Don't Play Baseball
Awards and Recognition:
A Choice Outstanding Academic Title, 2010.
A revealing look at the history of women's exclusion from America's national pastime
This history of women in baseball demonstrates that, far from being strictly a men's sport, baseball has long been enjoyed and played by Americans of all genders, races, and classes since it became popular in the 1830s. The game itself was invented by English girls and boys, and when it immigrated to the United States, numerous prominent women's colleges formed intramural teams and fielded intensely spirited and powerful players. With the professionalization of the sport in the late nineteenth century, however, American boys and men shoved girls off the diamonds and sandlots. Girls have been fighting to get back in the game ever since.
Jennifer Ring questions the forces that try to keep girls who want to play baseball away from the game. Focusing on a history that, unfortunately, repeats itself, Ring describes the circumstances that twice stole baseball from American girls: once in the late nineteenth and early twentieth century, and again in the late twentieth century, after it was no longer legal to exclude girls who wanted to play. In the early twentieth century, Albert Goodwill Spalding--sporting goods magnate, baseball player, and promoter--declared baseball off limits for women and envisioned global baseball on a colonialist scale, using the American sport to teach men from non-white races and non-European cultures to become civilized and rational. And by the late twentieth century, baseball had become serious business for boys and men at all levels, with female players perceived as obstacles or detriments to rising male players' chances of success.
Stolen Bases also looks at the backgrounds of American softball, which was originally invented by men who wanted to keep playing baseball indoors during cold winter months but has become the consolation sport for most female players. Throughout her analysis, Ring searches for ways to rescue baseball from its arrogance and sense of exclusionary entitlement.
---
"Sharp, thoroughly researched examination of gender discrimination in [baseball]."--Los Angeles Times

"Throwing 'like a girl' is an age-old taunt, and Jennifer Ring has had enough of it."--Washington Post

"The story Ring tells is outrageous. Her title is accurate: baseball has been stolen from girls."--Women's Review of Books

"An extraordinary account of the rejection of female players from baseball. . . . [Ring] searches for ways to reclaim baseball's nickname, 'the people's game,' and encourage females who want to play a game they are passionate about. Highly recommended."--Choice

"An important work. . . . Ring traces over a 100 years of issues arising from individuals, cultural biases, legal arguments, and the like to develop a full picture."--Cave 17.com


"By examining the systematic exclusion of women from baseball, this compelling book goes into depth about a topic that most historians do not even question. With a gripping storyline and strong, clear prose, Stolen Bases contains some of the best sportswriting I have seen."--Susan K. Cahn, coeditor of Women and Sports in the United States: A Documentary Reader

"This book blends history, political economy, sociology, and biography to form an engaging narrative about the place of women in baseball. Jennifer Ring offers fresh insights, focusing on the game's maternity and the development of efforts to preclude women from playing baseball or acknowledging their place in the game's past."--Adrian Burgos Jr., author of Playing America's Game: Baseball, Latinos, and the Color Line
---
To order online:
//www.press.uillinois.edu/books/catalog/48yen7sx9780252032820.html
To order by phone:
(800) 621-2736 (USA/Canada)
(773) 702-7000 (International)
Related Titles