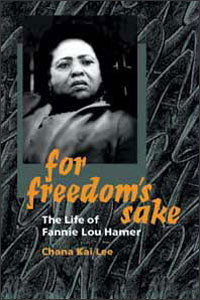 For Freedom's Sake
The Life of Fannie Lou Hamer
Awards and Recognition:
Winner of the Willie Lee Rose Prize, Southern Association of Women Historians, 1998. Winner of the Letitia Woods Brown Prize.
The award-winning biography of the legendary civil rights activist
The youngest of twenty children of sharecroppers in rural Mississippi, Fannie Lou Hamer witnessed throughout her childhood the white cruelty, political exclusion, and relentless economic exploitation that defined African American existence in the Delta.
In this intimate biography, Chana Kai Lee documents Hamer's lifelong crusade to empower the poor through collective action, her rise to national prominence as a civil rights activist, and the personal costs of her ongoing struggle to win a political voice and economic self-sufficiency for blacks in the segregated South. Lee looks at Hamer's early work as a field secretary for the Student Nonviolent Coordinating Committee in Mississippi, her dramatic appearance at the 1964 Democratic National Convention, and her ongoing work as a militant grassroots leader in her own community.
---
"Emerging from the lowliest rungs of Mississippi's segregated world, Fannie Lou Hamer became an icon of black protest during the 1960s. . . . This book will win recognition for ably showing Hamer as a warrior at once valiant and vulnerable."--Robert Weisbrot, American Historical Review

"Far more prominent in the historical record than in the history books, black women in the post-World War II freedom movements are the subject of exciting recent scholarship. Lee's portrait of Fanny Lou Hamer stands among the best of those works. . . . This is the best book on a crucially important subject."--Timothy B. Tyson, Journal of American History

"Lee's biography is less committed to exploring Hamer's personal life than to charting her growth as an activist and examining the profound impact of gender, sexuality, violence and poverty on the early civil rights movement. . . . Vividly brings to light a crucial aspect of the civil rights movement that until now has not been given its due."--Publishers Weekly
"Chana Kai Lee's accessible, elegant, and comprehensively researched biography of Fannie Lou Hamer reminds us that even cataclysmic changes in social relations start with the experiences, aspirations, and imagination of ordinary people. An unknown plantation field hand and timekeeper until her forties, Mrs. Hamer emerged as the quintessential rank and file activist and grassroots leader of the Mississippi Freedom Movement. Lee shows how the civil rights movement was not just a battle to end segregation, but rather functioned as a broad based battle against poverty, illiteracy, economic exploitation, and all forms of dehumanization and oppression. More than any other individual, Fannie Lou Hamer embodied the extraordinary changes provoked in U.S. society by the civil rights movement of the 1960s. In Chana Kai Lee, she has found a biographer worthy of her story."--George Lipsitz, author of A Rainbow at Midnight: Labor and Culture in the 1940s

"Chana Kai Lee has written a remarkable biography of a remarkable woman. Of all the local people who guided and sustained the civil rights movement in reshaping the South and America during the second half of the twentieth century, Fannie Lou Hamer stands at the top. . . . Lee has given us a brilliantly textured portrait of the public and private life of a wife, mother, civil rights organizer, and mentor to young people struggling for freedom. For Freedom's Sake provides a truthful and sensitive portrait of a poor, southern black woman who transformed herself and countless others, while at the same time experiencing intense personal disappointment and pain. Not merely a story of one woman's triumph and tragedy, Lee's revealing book presents a moving and perceptive study of the human condition."--Steven F. Lawson, author of Running for Freedom: Civil Rights and Black Politics in America since 1941

"An extremely valuable addition to the historiography of the civil rights movement."—John Dittmer, author of Local People: The Struggle for Civil Rights in Mississippi

"Enlightening, moving, and inspirational."--Beverly Guy-Sheftall, author of Daughters of Sorrow: Attitudes toward Black Women, 1880-1920
---
To order online:
//www.press.uillinois.edu/books/catalog/49hkr4gq9780252021510.html
To order by phone:
(800) 621-2736 (USA/Canada)
(773) 702-7000 (International)
Related Titles