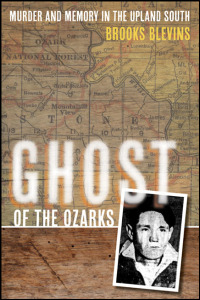 Ghost of the Ozarks
Murder and Memory in the Upland South
Awards and Recognition:
• J. G. Ragsdale Book Award in Arkansas History, Arkansas History Association, 2013
A grisly killing and a walking dead man in the Arkansas hills
In 1929, in a remote county of the Arkansas Ozarks, the gruesome murder of harmonica-playing drifter Connie Franklin and the brutal rape of his teenaged fiancée captured the attention of a nation on the cusp of the Great Depression. National press from coast to coast ran stories of the sensational exploits of night-riding moonshiners, powerful "Barons of the Hills," and a world of feudal oppression in the isolation of the rugged Ozarks. The ensuing arrest of five local men for both crimes and the confusion and superstition surrounding the trial and conviction gave Stone County a dubious and short-lived notoriety.
Closely examining how the story and its regional setting were interpreted by the media, Brooks Blevins recounts the gripping events of the murder investigation and trial, where a man claiming to be the murder victim--the "Ghost" of the Ozarks--appeared to testify. Local conditions in Stone County, which had no electricity and only one long-distance telephone line, frustrated the dozen or more reporters who found their way to the rural Ozarks, and the developments following the arrests often prompted reporters' caricatures of the region: accusations of imposture and insanity, revelations of hidden pasts and assumed names, and threats of widespread violence.
Ghost of the Ozarks: Murder and Memory in the Upland South entertains readers with a dramatic tale of true crime as well as a skilled interpretation of the region. Throughout this narrative, Blevins weaves a sophisticated social history of the Ozarks in the early twentieth century, critically analyzing the stereotypes and imagery inherent in local folklore and embedded in media coverage of the murder and trial. Locating the past of the Upland South squarely within the major currents of American history, Blevins paints a convincing backdrop to a story that, more than 80 years later, remains riddled with mystery and a source of bitter division in the community where some believe Connie Franklin met his end.
---
"[Blevins] burrows deep into the family lines, the social relationships, and the economy of the tiny community. . . . He dispels many of the myths about the alleged backwardness of the people of the Ozarks, and creates a fascinatingly complex work of historical sociology/ethnology."--Columbia Journalism Review

"A solid read about how the press presents criminal events. . . . Will be of interest to true crime fans."--Library Journal

"A fascinating account of one of the strangest criminal cases in Arkansas history and an excellent exploration of the social life and customs of a bygone backwoods era."--The Sentinel-Record

"Provides valuable insights into journalism's part in creating or maintaining stereotypes of a region and its residents. . . . The book tells a compelling tale. "--Jhistory

"Blevins keeps the reader interested and entertained from the first page of his book to the last."--Arkansas Review

"Essential reading for all scholars with an interest in the history of Arkansas, the Ozarks and Appalachia, and the South." --Arkansas Historical Quarterly

"The masterful application of a fine historian's research and writing techniques provides important resources for folklorists researching interconnections between local history and folklore."--Journal of Folklore Research

"This is local history at its best--the description and analysis of a single localized event that sheds light on the larger place and time. Blevins writes with a knowledge based on exhaustive scholarly research and the understanding of one who was born and raised in the region. Serious scholars and casual readers alike will find Ghost of the Ozarks hard to put down."--The Journal of Southern History

"Brooks Blevins. . . . shows that one can never quite sift out all of the cultural biases and long-held prejudices and get down to the bare facts of a case. . . .Blevins has found more complexity than anyone could have imagined during an already complicated trial."--Missouri Historical Review

"Blevins delivers a top-notch, well-documented social history of the White River hills, one in which he debunks the notion of exceptionalism in the upland South and concludes that life in the Ozarks on the eve of the Great Depression was much more complex and interesting than the yellow press made it out to be."--Journal of Appalachian Studies

"This book is about far more than a trial. It is a deep and penetrating look at an isolated and poor mountain redoubt along Cajun Creek on the eastern edge of Stone County."--Arkansas Democrat-Gazette
"Brooks Blevins is an expert on Ozarks matters--the history, the land, the people--and in Ghost of the Ozarks he proves it again. Blevins provides a spellbinding account of a notorious and brutal crime involving murder, rape, and the resurrection of a corpse, with a bounty of mysterious elements and a haunting resolution."--Daniel Woodrell, author of Winter's Bone

"One of the most interesting books I have read in years--I started the first few pages and just couldn't quit. This thorough and sophisticated discussion will appeal to readers interested in the history of violence, cultural stereotypes, modernization, the Ozarks, legal history, and journalism."--Bruce E. Baker, author of This Mob Will Surely Take My Life: Lynchings in the Carolinas, 1871–1947

"Brooks Blevins does an outstanding job of retelling the ins and outs of this fantastic and entertaining story--the sensationalism of the press, the charges of rape, peonage, and privilege, the dramatic trial, and even the reappearance of the murder victim."--Michael Pierce, associate editor, Arkansas Historical Quarterly
---
To order online:
//www.press.uillinois.edu/books/catalog/52khw4sz9780252036958.html
To order by phone:
(800) 621-2736 (USA/Canada)
(773) 702-7000 (International)
Related Titles