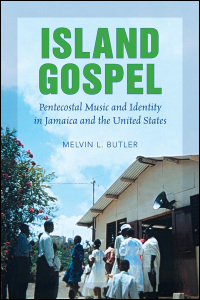 Island Gospel
Pentecostal Music and Identity in Jamaica and the United States
A rare look at Jamaican Pentecostals and their music
Pentecostals throughout Jamaica and the Jamaican diaspora use music to declare what they believe and where they stand in relation to religious and cultural outsiders. Yet the inclusion of secular music forms like ska, reggae, and dancehall complicates music's place in social and ritual practice, challenging Jamaican Pentecostals to reconcile their religious and cultural identities.
Melvin L. Butler journeys into this crossing of boundaries and its impact on Jamaican congregations and the music they make. Using the concept of flow, Butler's ethnography evokes both the experience of Spirit-influenced performance and the transmigrations that fuel the controversial sharing of musical and ritual resources between Jamaica and the United States. Highlighting constructions of religious and cultural identity, Butler illuminates music's vital place in how the devout regulate spiritual and cultural flow while striving to maintain both the sanctity and fluidity of their evolving tradition.
Insightful and original, Island Gospel tells the many stories of how music and religious experience unite to create a sense of belonging among Jamaican people of faith.
---
"Island Gospel is a much-needed and important contribution to Pentecostal studies and ethnomusicology. . . . The book offers insights that will be useful to scholars and students across a wide range of fields and disciplines. " --Journal of Folklore Research

"In a field dominated by studies of secular popular music, more focus on sacred traditions is overdue and welcomed. We owe great thanks to Michael Butler for bringing us inside these Jamaican and Brooklyn churches to share the songs and stories of a community of worshipers who practice the complex interweaving of belief, ritual, and musical praxis." --Gotham Center for New York City History
"Island Gospel is a groundbreaking exploration into the complex landscape of Jamaican Pentecostal musical culture. By working in rural and urban religious communities in Jamaica, as well as Jamaican diasporic communities in New York, Melvin Butler unearths the ways in which the faithful hold onto a 'surprisingly resilient' holy-worldly binary as they construct, deconstruct, and collapse boundaries within Pentecostal musical culture across ideas of traditional and modern; colonialism and independence; Jamaican-ness and American-ness; local and global; racialized sounds of Blackness and whiteness; and generations. Throughout his fieldwork, Butler benefits from and remains refreshingly self-reflexive about his position as an ethnomusicologist, 'believer,' and accomplished keyboardist participating in and observing church life. A must-read for scholars of Caribbean musical culture and Pentecostalism."--Judith Casselberry, author of The Labor of Faith: Gender and Power in Black Apostolic Pentecostalism

"The most extensive ethnographic study to date of Pentecostal music practices. The author's perspective as a practicing believer and respected ethnomusicologist provides unprecedented access to the community and a deep understanding of Pentecostal traditions and discourses."--Judah Cohen, author of Jewish Liturgical Music in Nineteenth-Century America
Publication of this book is supported by a grant from the Bruno Nettl Endowment for Ethnomusicology.
---
To order online:
//www.press.uillinois.edu/books/catalog/52red3ft9780252042904.html
To order by phone:
(800) 621-2736 (USA/Canada)
(773) 702-7000 (International)
Related Titles