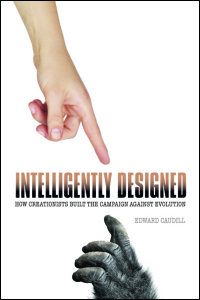 Intelligently Designed
How Creationists Built the Campaign against Evolution
Awards and Recognition:
• A Choice Outstanding Academic Title, 2014
Creationists' tactics in the culture wars, from the Scopes trial to today
Tracing the growth of creationism in America as a political movement, this book explains why the particularly American phenomenon of anti-evolution has succeeded as a popular belief. Conceptualizing the history of creationism as a strategic public relations campaign, Edward Caudill examines why this movement has captured the imagination of the American public, from the explosive Scopes trial of 1925 to today's heated battles over public school curricula. Caudill shows how creationists have appealed to cultural values such as individual rights and admiration of the rebel spirit, thus spinning creationism as a viable, even preferable, alternative to evolution.
In particular, Caudill argues that the current anti-evolution campaign follows a template created by Clarence Darrow and William Jennings Bryan, the Scopes trial's primary combatants. Their celebrity status and dexterity with the press prefigured the Moral Majority's 1980s media blitz, more recent staunchly creationist politicians such as Sarah Palin and Mike Huckabee, and creationists' savvy use of the Internet and museums to publicize their cause. Drawing from trial transcripts, media sources, films, and archival documents, Intelligently Designed highlights the importance of historical myth in popular culture, religion, and politics and situates this nearly century-old debate in American cultural history.
---
"Caudill shows just how, with a grassroots focus on getting intelligent design taught in public schools and with media savvy, the creationists have successfully turned their pseudo-scientific beliefs into an influential political movement."--Library Journal

"Meticulously documents the key transitions/actions that allowed anti-evolutionism to move from fundamentalist backwaters to mainstream media attention. . . . Caudill provides a well-documented history, from Scopes to Dover. . . . This is an excellent primer for anyone new to the discussion and also an excellent historical analysis for scholars in the area. Highly recommended."--Choice

"Edward Caudill's Intelligently Designed: How Creationists Built the Campaign against Evolution tackles the central paradox of the now venerable conflict between science and conservative Protestantism in the United States. . . . Caudill partly attributes the political and cultural success of creationism to its media savvy and tenacity."--The Journal of Southern History

"The book ably explains how such a scientifically implausible movement as anti-evolutionism gained traction in such a technologically and scientifically advanced society."--American Journalism

"An engagingly written overview of nearly a century of contestation."--Reports of the National Center for Science Education
"A political and cultural history of creationism from the Scopes trial in 1925 to the Creation Museum of today, Intelligently Designed is a smart and important book that will be read widely by those interested in politics, religion, education, and media."--John P. Ferré, coauthor of Good News: Social Ethics and the Press
---
To order online:
//www.press.uillinois.edu/books/catalog/53emm4mg9780252038013.html
To order by phone:
(800) 621-2736 (USA/Canada)
(773) 702-7000 (International)
Related Titles