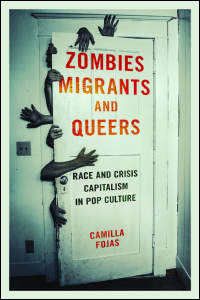 Zombies, Migrants, and Queers
Race and Crisis Capitalism in Pop Culture
The victims of capitalism and other catastrophes
The alarm and anxiety unleashed by the Great Recession found fascinating expression across popular culture. Harried survivors negotiated societal collapse in The Walking Dead. Middle-class whites crossed the literal and metaphorical Mexican border on Breaking Bad or coped with a lack of freedom among the marginalized on Orange Is the New Black.
Camilla Fojas uses representations of people of color, the incarcerated, and trans/queers--vulnerable populations all--to work through the contradictions created by the economic crisis and its freefalling aftermath. Television, film, advertising, and media coverage of the crisis created a distinct kind of story about capitalism and the violence that supports it. Fojas shows how these pop culture moments reshaped social dynamics and people's economic sensibilities and connects the ways pop culture reflected economic devastation. She also examines how these artifacts illuminated parts of society usually kept off-screen or on the margins even as they defaulted to stories of white protagonists.
Bold and riveting, Zombies, Migrants, and Queers is an overdue exploration of America's reshuffled capitalism and the stories emerging from within its contradictions and uncertainties.
---
"Essential."--PopMatters

"Camilla Fojas's Zombies, Migrants, and Queers: Race and Crisis Capitalism in Pop Culture is a detailed and timely investigation of some of the most popular media of the past decade in the context of the global economic downturn."--Journal of Asian American Studies

"Powerful and inventive, offering a new way to think about zombie media as critiques of debt that are themselves too often unable to think their way of the global orders of racial capitalism against which they so anxiously rage." --American Quarterly

"Zombies, Migrants and Queers: Race and Crisis Capitalism in Pop Culture by Camilla Fojas is such as an academic work, bringing together theories and topics from many different disciplines (sociology, economics, cultural studies, philosophy) in a very casual--yet impressively coherent--way." --Ethnic and Racial Studies
"Fojas has done it again. With her trademark elegance of prose and sharp cutting cultural critique she slices through those thick layers of capitalist ideology that wrap all variety of popular cultural entertainment. From blue-ice meth to the zombie invasions, Fojas scrapes to the bone just how pop culture speaks to and against very real, everyday material concerns of twenty-first century trans-Pacific borderland denizens. Extraordinary! Exquisite! Edifying!"--Frederick Luis Aldama, author of The Cinema of Robert Rodriguez

"The range of this book is astonishing and Fojas does justice to complex theoretical concepts by showing how they help us understand the primary texts while not dumbing down the theory."--David Schmid, author of Natural Born Celebrities: Serial Killers in American Culture

"An exciting book, quite probably Fojas's most important work to date. It is timely, edgy, well-researched, impassioned. In it, Fojas analyzes journalism, memoirs, literature, photography, art, film, TV, music, economics, history, all in relation to 'popular culture.' . . . She adroitly draws on Greek myths, Freud, Lacan, Marx, Deleuze and Guattari, Lyotard, Barthes, Michelle Alexander, Angela Davis, Foucault, and others in her contemplation of specific artistic and mass media exemplars."--Christine Holmlund, editor of The Ultimate Stallone Reader: Sylvester Stallone as Star, Icon, Auteur
---
To order online:
//www.press.uillinois.edu/books/catalog/53ghc5mg9780252040924.html
To order by phone:
(800) 621-2736 (USA/Canada)
(773) 702-7000 (International)
Related Titles