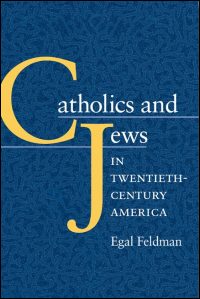 Catholics and Jews in Twentieth-Century America
Awards and Recognition:
Kenneth Kingery Scholarly Book Award, Council for Wisconsin Writers, 2002
A lively account of the hard path away from mutual suspicion toward reconciliation.
Rich with the insights of prominent Catholic and Jewish commentators and religious leaders, Catholics and Jews in Twentieth-Century America recounts the amazing transformation of a relationship of irreconcilable enmity to one of respectful coexistence and constructive dialogue.
Focusing primarily on the Catholic doctrinal view of the Jews and its ramifications, Egal Feldman traces the historicalroots of anti-Semitism, examining tenacious Catholic beliefsincluding the idea that the Jews lost their place as the chosen people with the coming of Christianity, deicide, and the conviction that their purported responsibility for the Crucifixion justified subsequent Jewish misery.
A new era of Catholic-Jewish relations opened in 1962 with Vatican II's Declaration on the Jews, reversing the theology of contempt. Feldman explores the strides made in improving relations, such as the Vatican's diplomatic recognition of the Jewish state, as well as a number of recent issues.
---
"[Feldman] takes up the American Jewish-Catholic relationship and its remarkable development over the course of the twentieth century. In doing so he has given a precious gift to both communities. . . . I would commend him for his balance and sure-footedness while narrating a number of extremely complex and sensitive issues and incidents. I can highly recommend this book."--Moment
"In a lucid and comprehensive overview of Catholic/Jewish relations in the twentieth century, Dr. Feldman provides depth of historical perspective and analysis to the major issues affecting relations between two critical American religious minorities. A combination of first-rate scholarship and eminently readable prose."--Steven Bayme, director of Contemporary Jewish Life, American Jewish Committee
---
To order online:
//www.press.uillinois.edu/books/catalog/53nkk4gq9780252073854.html
To order by phone:
(800) 621-2736 (USA/Canada)
(773) 702-7000 (International)
Related Titles