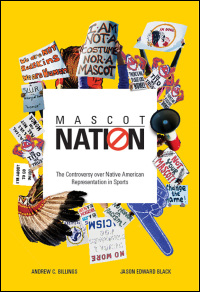 Mascot Nation
The Controversy over Native American Representations in Sports
Awards and Recognition:
• Outstanding Book Award, Communication and Sport Division of the National Communication Association, 2019
• Best Book Award, American Studies Division of the National Communication Association, 2019
Looking for consensus on one of the most divisive issues in sports
The issue of Native American mascots in sports raises passions but also a raft of often-unasked questions. Which voices get a hearing in an argument? What meanings do we ascribe to mascots? Who do these mascots really represent?
Andrew C. Billings and Jason Edward Black go beyond the media bluster to reassess the mascot controversy. Their multidimensional study delves into the textual, visual, and ritualistic and performative aspects of sports mascots. Their original research, meanwhile, surveys sports fans themselves on their thoughts when a specific mascot faces censure. The result is a book that merges critical-cultural analysis with qualitative data to offer an innovative approach to understanding the camps and fault lines on each side of the issue, the stakes in mascot debates, whether common ground can exist and, if so, how we might find it.
---
"Valuable . . . Examine[s] all sides of the issue with an objective eye."--Booklist

"Mascot Nation is a welcome addition to the literature on the Native American mascot controversy. Well researched and clearly written, this account offers a novel, interdisciplinary, multidimensional approach. Recommended." --Choice

"Mascot Nation fills a gap by casting a wide net and offering conclusions backed by the diverse cast of disciplines that are engaged in mascot research." --H-Net Reviews

". . . thoughtful, well-researched analysis. . . . This book makes an important contribution to communication scholarship." --Journal of Communication
"An exciting project that promises to impact understandings of Native American mascots in powerful ways. Mascot Nation provides fresh perspectives on the use of American Indian imagery in sport. Rather than restate existing arguments in the ongoing controversy, Billings and Black weave together established understandings and new empirical research to clarify not simply what mascots mean but also how they matter in sport and society. Of particular note, they craft a well-rounded and fully grounded account by engaging with people and perspectives from all sides of the controversy. Mascot Nation will become essential reading for anyone interested in understanding the study and struggle over Native American mascots. It will soon come to be seen as an exemplar for the study of sport communications."--C. Richard King, author of Redskins: Insult and Brand

"In Mascot Nation, Andrew Billings and Jason Black have taken on an enduring controversy in the study of sport and culture. Their savvy multi-method study illuminates how embedded representations of Native American mascots have built historical affinities that fans have for sports teams and highlights the important role that media has played in constructing and celebrating problematic understandings of Native Americans and their traditions. Through careful deconstruction of the central tendencies in case studies of media practices and the debates around them, this is a seminal study that will challenge sports fans to reconsider the harms in the legacies that have naturalized misunderstandings of Native American cultures."--Lawrence Wenner, editor-in-chief, Communication & Sport
---
To order online:
//www.press.uillinois.edu/books/catalog/54dfh9gr9780252042096.html
To order by phone:
(800) 621-2736 (USA/Canada)
(773) 702-7000 (International)
Related Titles