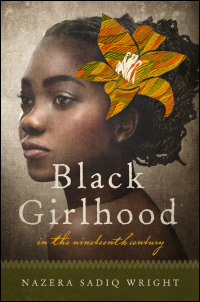 Black Girlhood in the Nineteenth Century
Awards and Recognition:
• Honor Book Award from the Children's Literature Association
How unlikely literary characters paved the way for black citizenship and progress
Long portrayed as a masculine endeavor, the African American struggle for progress often found expression through an unlikely literary figure: the black girl. Nazera Sadiq Wright uses heavy archival research on a wide range of texts about African American girls to explore this understudied phenomenon.
As Wright shows, the figure of the black girl in African American literature provided a powerful avenue for exploring issues like domesticity, femininity, and proper conduct. The characters' actions, however fictional, became a rubric for African American citizenship and racial progress. At the same time, their seeming dependence and insignificance allegorized the unjust treatment of African Americans. Wright reveals fascinating girls who, possessed of a premature knowing and wisdom beyond their years, projected a courage and resiliency that made them exemplary representations of the project of racial advance and citizenship.
---
"Black Girlhood lights a vital path toward the future scholarship in this area of study."--American Literary History

"Black Girlhood provides an historical and theoretical framework on which to further womanist/feminist explorations of the meaning, celebration, and deformation of black girlhood in America as we intervene within racially gendered discourses and practices by calling attention to the ways in which black women remain "othered" and marginalized within our culture."--Indiana Magazine of History

"Powerfully written. . . . Black Girlhood in the Nineteenth Century is an impressive achievement and will serve as important reading for literary and historical scholars, as well as anyone interested in the significant role of African American girls in the tumultuous decades that brought the Civil War, the abolition of slavery, and the unfulfilled promises of Reconstruction."--Civil War Book Review

"Wright's book provides a model for historians and literary scholars to think through black childhood and its importance in the black public sphere."--Journal of the History of Childhood and Youth

"This text is a welcome addition to the fields of women's, girls' and literary studies and will be of interest to researchers, academics, historians, and literary critics alike." --Ethnic and Racial Studies Review

"A graceful, persuasive book, Black Girlhood is an invaluable contribution to the growing field of childhood studies." --Legacy: A Journal of American Women Writers

"Black girlhood in the Nineteenth Century is innovative scholarship that is likely to serve as a touchstone for future work in ethnic literature, children's literature, and print culture." --MELUS: The Society for the Study of the Multi-Ethnic Literature of the United States

"Black Girlhood in the Nineteenth Century is innovative scholarship that is likely to serve as a touchstone for future work in ethnic literature, children's literature, and print culture." --MELUS: The Society for the Study of the Multi-Ethnic Literature of the United States
"Wright's research is breathtaking. Her subject matter is of the utmost importance. This book lays the foundation for all future scholarship on African American girls in representation and in life."--Robin Bernstein, author of Racial Innocence: Performing American Childhood from Slavery to Civil Rights

"An important gift from an emerging scholar with a keen critical eye and impressive sleuthing skills. With depth and insight, Wright explores African American women's most exigent issues from the cusp and vantage of girlhood: marriage, motherhood, widowhood, and employment, each state intensified by the myriad oppressions black women uniquely face. In addition, Wright's book enriches nascent black print culture studies through its compelling engagement with archival documents and its valuable illumination of previously neglected newspapers, magazines, conduct books, sentimental discourses of all types. Drawing on a striking variety of print media, Wright revels in today's incalculable possibilities for research into African American women's history, literature and culture, and illustrates significant ways understudied black literary gems--from nineteenth century newspapers and scrapbooks--can deepen readers' insights into the supremacy of education to black people across US history and African American women's fierce pursuits of justice and self-determination."--Joycelyn Moody, Sue E. Denman Distinguished Chair in American Literature, University of Texas at San Antonio


---
To order online:
//www.press.uillinois.edu/books/catalog/54fkh7kt9780252040573.html
To order by phone:
(800) 621-2736 (USA/Canada)
(773) 702-7000 (International)
Related Titles