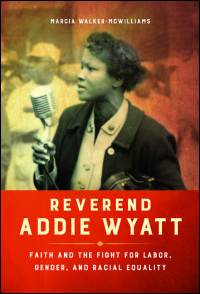 Reverend Addie Wyatt
Faith and the Fight for Labor, Gender, and Racial Equality
An extraordinary woman's struggle for the idea of equality as a universal, God-given right
Labor leader, civil rights activist, outspoken feminist, African American clergywoman--Reverend Addie Wyatt stood at the confluence of many rivers of change in twentieth century America. The first female president of a local chapter of the United Packinghouse Workers of America, Wyatt worked alongside Martin Luther King Jr. and Eleanor Roosevelt and appeared as one of Time magazine's Women of the Year in 1975.
Marcia Walker-McWilliams tells the incredible story of Addie Wyatt and her times. What began for Wyatt as a journey to overcome poverty became a lifetime commitment to social justice and the collective struggle against economic, racial, and gender inequalities. Walker-McWilliams illuminates how Wyatt's own experiences with hardship and many forms of discrimination drove her work as an activist and leader. A parallel journey led her to develop an abiding spiritual faith, one that denied defeatism by refusing to accept such circumstances as immutable social forces.
Drawing on oral histories, interviews conducted with Wyatt's colleagues and families, personal papers, and extensive archival data, Reverend Addie Wyatt is the inspiring portrait of a woman who defied injustice in its many guises.
---
"Walker-McWilliams masterfully weaves the influences of the Great Migration from Mississippi to segregated Chicago, the vibrant religious culture of the Church of God, Chicago's meatpacking industry and labor movements, the emergence of the Civil Rights and women's movements, and her enduring marriage to Rev. Claude Wyatt to create a fascinating portrait of a historical activist icon."--Chicago Review of Books

"This highly readable biography by historian Marcia Walker-McWilliams gives this influential figure the attention she deserves."--Newcity

"[A] compelling, well-written, definitive biography. . . . This biography of Addie Wyatt is a valuable treatment of an activist who should be better known and whose life provides an important window into the organized labor, feminist, and civil rights movements."--Indiana Magazine of History

"Marcia Walker-McWilliams' Reverend Addie Wyatt: Faith and the Fight for Labor, Gender, and Racial Equality engages readers in an enlightening examination of Addie Wyatt's professional trials and personal tribulations. . . . Another must read in the Women, Gender, and Sexuality Studies in American History series."--Journal of the Illinois State Historical Society

"Richly detailed and well-researched. . . . Wyatt's work speaks directly to the ways the social movements of which she was a part unquestionably advanced America's still unfinished struggles for democracy."--Labour/Le Travail

"Walker-McWilliam's book is very well researched, clearly written, and extremely well organized. . . . Reverend Addie Wyatt is an important piece of scholarship that will appeal to both scholars and nonscholars interested in social movements in history."--The Journal of Southern History

"Walker-McWilliams makes especially interesting points when discussing the intersection between Wyatt's faith and gender....She has succeeded in establishing Addie Wyatt as a worthy figure of attention." --Church History

"Walker-McWilliams makes especially interesting points when discussing the intersection between Wyatt's faith and gender....She has succeeded in establishing Addie Wyatt as a worthy figure of attention." --Church History

"Walker-McWilliams presents a nuanced and intimate biography of labor activist and minister Addie Cameron Wyatt. " --Reviews in American History

"Wyatt's life is historically important, and Walker-McWilliams has distilled her narrative into a rich resource for scholars and graduate students in the fields of black studies and civil rights, urban, and women's histories." --The Journal of American History

"Well-researched and clearly written . . . the volume greatly enhances our understanding of the Church of God's role in Black Social Gospel." --Church of God Historian

"Walker-McWilliams skillfully captures through a wide array of primary and secondary sources another view of a working-class black women activist in the life and times of Reverent Addie Wyatt as well as often underresearched aspects of labor history, black women's history, and civil rights activism." --Journal of African American History
"Late in life, Addie Wyatt told Walker-McWilliams to 'tell the story,' and this powerful social movement biography certainly delivers. Long before people were thinking through the notion of 'intersectionality,' Reverend Addie Wyatt lived a firm commitment to her Christian faith, labor activism, women's equality, and racial justice as all essential for her vision of freedom. Here, we are presented with a complex piece of the past, a life of liberation that can instigate and inspire us to forge a better future."--Davarian L. Baldwin, author of Chicago's New Negroes: Modernity, the Great Migration, and Black Urban Life

"Deeply researched and well written. An original, compelling, and important biography of a significant leader of twentieth century labor, civil rights, and women's movements in the United States."--Nancy F. Gabin, author of Feminism in the Labor Movement: Women and the United Auto Workers, 1935-1937
---
To order online:
//www.press.uillinois.edu/books/catalog/54fqt7px9780252040528.html
To order by phone:
(800) 621-2736 (USA/Canada)
(773) 702-7000 (International)
Related Titles