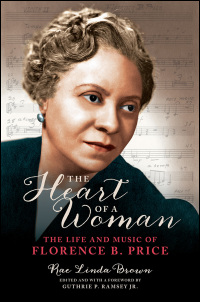 The Heart of a Woman
The Life and Music of Florence B. Price
An in-depth look at the music of the groundbreaking black woman composer
The Heart of a Woman offers the first-ever biography of Florence B. Price, a composer whose career spanned both the Harlem and Chicago Renaissances, and the first African American woman to gain national recognition for her works.
Price's twenty-five years in Chicago formed the core of a working life that saw her create three hundred works in diverse genres, including symphonies and orchestral suites, art songs, vocal and choral music, and arrangements of spirituals. Through interviews and a wealth of material from public and private archives, Rae Linda Brown illuminates Price's major works while exploring the considerable depth of her achievement. Brown also traces the life of the extremely private individual from her childhood in Little Rock through her time at the New England Conservatory, her extensive teaching, and her struggles with racism, poverty, and professional jealousies. In addition, Brown provides musicians and scholars with dozens of musical examples.
---
"A major achievement." --Classical Voice North America

"Brown recovers the legacy of a cultural hero while providing a fascinating glimpse of African American cultural life in the early twentieth century." --Booklist

"A fascinating study of an overlooked Chicagoan, the first African American woman to have a musical composition played by a major orchestra, and the early stages of black feminism." --Chicago Magazine

"Rae Linda Brown offers an in-depth and meticulously researched portrait of Florence B. Price. Brown expertly weaves the details of Price's life with examinations of race, poverty and sexism in the musical and social history of her time. " --Ms.

"The Heart of a Woman is a book that educates in the best way: by bringing to life in bold strokes Price, her contemporaries, and her times. As such, it stands as a fitting capstone to Brown's decades-long devotion to her subject and, more broadly, of giving voice to the rich complexity of the African American cultural experience." --The Arts Fuse

"Highly recommended." --Choice

"The Heart of a Woman: The Life and Music of Florence B. Price is a much needed addition to scholarship on Black composers, American music history, Black women's creative lives, and Florence Price herself." --Houston Review of Books
"The Heart of a Woman is a complex and engaging read of the life and music of Florence B. Price that illuminates how the cultural and intellectual lives of African Americans are deeply embedded in the tapestry of America's social and musical history. Rae Linda Brown's work extends beyond the conventional biography as it offers an analytical narrative that interrogates Price's negotiation of the politics of race and gender, her role in advancing the black symphonic aesthetic, and her dedication to social change and racial equality on and off of the concert stage. The timeliness of this book and the revival of Price's music are reflective of how the world's consciousness has finally caught up with intellectual labor offered by both Florence Price and Rae Linda Brown."--Tammy L. Kernodle, author of Soul on Soul: The Life and Music of Mary Lou Williams

"The Heart of a Woman is a much needed and long awaited biography of Florence Price by the leading scholar—Dr. Rae Linda Brown—who devoted her career to carefully constructing the life history of this pathbreaking composer. Not only do we now have the go-to reference for the important dates and events in Price's life along with the most comprehensive list and analyses of her works. Brown also places Price within the larger context of her times. Starting with the Civil War era and carefully excavating the history of life for African Americans during Reconstruction, the formation of the Jim Crow environment, the Harlem Renaissance and through the first half of the twentieth century, we learn the details of Price's upbringing and formation of her career. Born in Little Rock, Arkansas, one of the early principal centers for black achievement in the south, Price trained in the leading music conservatories in Boston, and moved on to a cosmopolitan life in Chicago—one of the primary destinations of the Great Migration. In this beautifully constructed narrative, Brown takes the pieces we know about Price and embroiders them within a richly textured tapestry that reveals Price in her well known roles as groundbreaking composer, performer, and mentor as well as a fully fleshed out woman who experienced a difficult marriage, was a loving mother, and modeled a path of uplift that brought together respectability and excellence. Especially helpful is the way Brown diligently integrates Price into the network of well-known people around her, including William Grant Still (they both grew up in Little Rock), George Chadwick, Margaret Bonds, Marian Anderson, Emma Azalia Hackley, Clarence Cameron White, and so many others. Brown reveals how the philosophies of W. E. B. Dubois and Booker T. Washington shaped the environment of achievement that nurtured Price as she was coming of age. Her education was shaped both by historically black colleges and universities as well as predominantly white institutions, and we see Price as a woman of her times and a pioneer showing the way forward."--Naomi André, author of Black Opera: History, Power, Engagement
Publication of this book was supported by grants from the H. Earle Johnson Fund of the Society for American Music, the Henry and Edna Binkele Classical Music Fund, and the Women's Philharmonic Advocacy (www.wophil.org).
---
To order online:
//www.press.uillinois.edu/books/catalog/54mmh4mt9780252043239.html
To order by phone:
(800) 621-2736 (USA/Canada)
(773) 702-7000 (International)
Related Titles