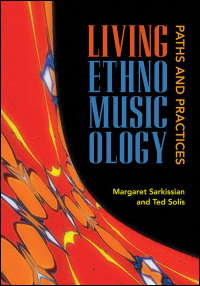 Living Ethnomusicology
Paths and Practices
The first-ever ethnography of the discipline
Ethnomusicologists have journeyed from Bali to Morocco to the depths of Amazonia to chronicle humanity's relationship with music. Margaret Sarkissian and Ted Solís guide us into the field's last great undiscovered country: ethnomusicology itself. Drawing on fieldwork based on person-to-person interaction, the authors provide a first-ever ethnography of the discipline. The unique collaborations produce an ambitious exploration of ethnomusicology's formation, evolution, practice, and unique identity. In particular, the subjects discuss their early lives and influences and trace their varied career trajectories. They also draw on their own experiences to offer reflections on all aspects of the field. Pursuing practitioners not only from diverse backgrounds and specialties but from different eras, Sarkissian and Solís illuminate the many trails ethnomusicologists have blazed in the pursuit of knowledge.
A bountiful resource on history and practice, Living Ethnomusicology is an enlightening intellectual exploration of an exotic academic culture.
---
"Living Ethnomusicology: Paths and Practices is ultimately an interesting and unique contribution to the discipline." --Journal of Folklore Research

"It is appropriate and logical that Margaret Sarkissian and Ted Solis used interviews to create Living Ethnomusicology, a sweeping and celebratory survey of the discipline." --Oral History Review
"I've had to admit that probably the world of ethnomusicologists--not a very large world at that--in their backgrounds, their education, and even their activities of research and teaching, are probably more diverse than members of other academic endeavors. It's to these very questions, 'who are the ethnomusicologists,' and 'what are they like,' that this book, Living Ethnomusicology, provides answers in a unique and comprehensive way. And for this reason it is one of the most important books to have appeared in a long time--it identifies and defines us in a concrete way."--Bruno Nettl, from the foreword

"This is a brilliant and original idea for a volume. The book focuses on nearly all aspects of the field, including most of the possible careers. As such, it is extraordinary and makes conclusive statements about what ethnomusicology is and who ethnomusicologists are."--David Harnish, author of Bridges to the Ancestors: Music, Myth, and Cultural Politics at an Indonesian Festival
Publication of this book is supported by grants from the Quitiplás Foundation, the Provost's Office at Smith College, Arizona State University's Herberger Institute for Design and the Arts, and the Arizona State University School of Music.
---
To order online:
//www.press.uillinois.edu/books/catalog/54xzf7wy9780252042348.html
To order by phone:
(800) 621-2736 (USA/Canada)
(773) 702-7000 (International)
Related Titles