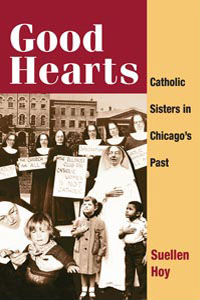 Good Hearts
Catholic Sisters in Chicago's Past
Awards and Recognition:
Received the 2007 Certificate of Excellence Award from the Illinois State Historical Society.
The critical roles of Catholic nuns in Chicago's development
Suellen Hoy's Good Hearts describes and analyzes the activities and contributions of Catholic nuns in Chicago. Beginning with the arrival of women-religious in 1846 and ending with the sisters' social activism in the 1960s, Good Hearts traces the development and evolution of the sisters' work and ministry that included education, health care, and social services.
Contrary to conventional portrayals of religious as reclusive and conservative, the nuns in Good Hearts are revealed as dynamic, powerful agents of change. Catholic sisters lived on the edge, serving sick and poor immigrants as well as those racially and religiously unlike themselves, such as the uneducated black migrants from the South. At all times, the sisters emphasized the importance of education to social mobility and equality. Hoy makes extensive use of primary documents, secondary sources, and personal interviews, as well as a series of revealing photographs to document their work and show that while almost always hidden, never-ending, and regularly ignored by male church leaders, the sisters' contributions were unique and generous, often saving those most at risk in a growing city.
---
"Hoy's essays set the record straight about the contributions of these bold, dynamic women religious. . . . Meticulously researched and footnoted. . . . Hoy's storytelling is compelling and vivid."--Catholic New World

"Fine history. . . . I embrace my recollections of these 'good hearts' and their good works—and wonder how their work will be replaced."--Martin Marty, Christian Century

"In these seven essays, Hoy builds a compelling picture of the time and the nuns' place in it."--Chicago Sun-Times

"An important collection. . . . [Hoy] establishes a rightful place for these women in the historical discussion of urban women activists. . . . it will help students and scholars to gain a nuanced picture of Chicago women's active roles in their city."--Indiana Magazine of History

"Good Hearts vividly reveals that women within the Catholic tradition have, often without recognition, been the most engaged in carrying out the humanitarian work on which the Church has staked its reputation for philanthropy."--Conscience

"An inspirational work ... Professor Hoy successfully demonstrates the overwhelming commitment to social, economic, and especially racial justice these women embraced."--American Catholic Studies

"An impressive . . . collection, drawing attention to women who were powerful agents of social change and providing a book that scholars of religious history, urban history, and women's history must read."--Catholic Historical Review

"Hoy has done a great service preserving and telling the history of some of the sisters who gave their lives for the Catholic Church in Chicago. This book is higly recommended to those interested in American Catholic Church history, the Catholic Church especially in Chicago, and history of religious orders of women."--Curled Up With a Good Book
---
To order online:
//www.press.uillinois.edu/books/catalog/55anf4tf9780252030574.html
To order by phone:
(800) 621-2736 (USA/Canada)
(773) 702-7000 (International)
Related Titles