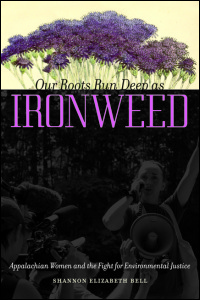 Our Roots Run Deep as Ironweed
Appalachian Women and the Fight for Environmental Justice
Awards and Recognition:
• Association for Humanist Sociology Book Award, 2014
• Silver Winner in Journalism/Investigative Reporting, Nautilus Book Awards, 2014
• Runner-up in General Nonfiction, Green Book Festival, 2014  
Personal stories of women's environmental activism in Central Appalachia
Motivated by a deeply rooted sense of place and community, Appalachian women have long fought against the damaging effects of industrialization. In this collection of interviews, sociologist Shannon Elizabeth Bell presents the voices of twelve Central Appalachian women, environmental justice activists fighting against mountaintop removal mining and its devastating effects on public health, regional ecology, and community well-being.
Each woman narrates her own personal story of injustice and tells how that experience led her to activism. The interviews--a number of them illustrated by the women's "photostories"--describe obstacles, lawsuits, and tragedies. But they also tell of new communities and personal transformations catalyzed through activism. Bell supplements each narrative with careful notes that aid the reader while amplifying the power and flow of the activists' stories. Bell's analysis outlines the interconnectedness of Appalachian women's activism and their roles as wives and mothers. Ultimately, Bell argues that these women draw upon a broader "protector identity" that both encompasses and extends the identity of motherhood that has often been associated with grassroots women's activism. As protectors, these women challenge dominant Appalachian gender expectations and guard not only their families, but also their homeplaces, their communities, their heritage, and the endangered mountains that surround them.
Thirty percent of the royalties from the sale of this book will be donated to organizations fighting for environmental justice in Central Appalachia.
---
"These stories reveal not only the profoundly devastating environmental, health, and social impacts experienced by Appalachians living in the 'sacrifice zone,' but also the identity transformation experienced by women who find a sense of purpose and agency in their activism. . . . a complex, detailed rendering of the human costs of US dependence on cheap energy. Recommended."--Choice

"By making grassroots women central, Bell has created a powerful model for scholarly writing that can engage undergraduates, faculty, and general readers. Our Roots Run Deep sees civic engagement as critical and shows that campuses and academics have much to learn from those who sometimes are merely studies or assisted."--Environmental History

"Bell's volume is unique in that it allows each activist to tell her own story in her own words. This approach is especially valuable when it comes to explaining why women in these mountain communities are much more likely than men are to join the environmental justice movement."--The Journal of Southern History

"Remarkable and unique. . . . Our Roots Run Deep as Ironweed makes enduring methodological and theoretical advances in the field and will be read and cited widely by scholars with interests in gender studies, environmental and environmental justice studies, community studies, social-change movements, and rural sociology."--Social Forces

"Our Roots Run Deep as Ironweed greatly enriches the growing body of literature on environment activism in the region. The inspiring and instructive stories of these courageous women form an invaluable record that Shannon Elizabeth Bell's sensitively conducted and edited interviews have beautifully captured."--Appalachian Journal

"Through the use of powerful oral histories as well as her own clear, concise writing, Bell accomplishes her goal of 'ensur[ing] that women's place in the history of this environmental justice movement is not forgotten.' This book will appeal not only to scholars but also to anyone interested in Appalachian women's activism, the Appalachian region itself, or environmental activism in general."--West Virginia History

"Offers an important counter to narratives within both political and feminist studies that have positioned rural women as static of 'failed' political actors. . . . This is an exemplary oral history that demonstrates Bell's skill as an interviewer and her capacity to engender trust and create rapport with her research participants."--Journal of Appalachian Studies

"Compelling accounts of polluted wells, washed out homesteads, run away coal trucks, and coal dust settling down on the town with each woman facing their own ecological nightmare and then coming to fight back, many endangering their own lives and community relations to do so."--Mobilization
"A groundbreaking collection of life stories from women in the struggle against mountaintop removal. These extraordinary stories are luminous with the courage and moral passion of these women as they struggle to protect their communities, families, land, and cultural heritage."--Betsy Taylor, coauthor of Recovering the Commons: Democracy, Place, and Global Justice

"Our Roots Run Deep as Ironweed substantially contributes to our understanding of grassroots activism and gender roles. Bell charts new ground with her extension of the 'motherhood effect' in grassroots environmental mobilization to the 'protector identity' motivated by an appreciation of nature. This book will be useful and attractive to scholars, students, and general readers."--Sherry Cable, author of Sustainable Failures: Environmental Policy and Democracy in a Petro-dependent World
---
To order online:
//www.press.uillinois.edu/books/catalog/55gxp5kh9780252037955.html
To order by phone:
(800) 621-2736 (USA/Canada)
(773) 702-7000 (International)
Related Titles