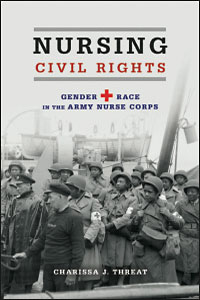 Nursing Civil Rights
Gender and Race in the Army Nurse Corps
Awards and Recognition:
• Lavinia L. Dock Award for Exemplary Historical Research Writing, American Association for the History of Nursing, 2017
Fighting for the right to a career in military nursing
In Nursing Civil Rights, Charissa J. Threat investigates the parallel battles against occupational segregation by African American women and white men in the U.S. Army.
As Threat reveals, both groups viewed their circumstances with the Army Nurse Corps as a civil rights matter. Each conducted separate integration campaigns to end the discrimination they suffered. Yet their stories defy the narrative that civil rights struggles inevitably arced toward social justice. Threat tells how progressive elements in the campaigns did indeed break down barriers in both military and civilian nursing. At the same time, she follows conservative threads to portray how some of the women who succeeded as agents of change became defenders of exclusionary practices when men sought military nursing careers. The ironic result was a struggle that simultaneously confronted and reaffirmed the social hierarchies that nurtured discrimination.
---
"This book links nurses' struggles to broader drives for racial and gender justice. Highly recommended."--Choice

"Charissa J. Threat offers an original way to view the struggles of professional black women and white men in nursing. . . . This book is more than a history of two groups struggling for acceptance in the cultures and politics of professional nursing and the military. Threat's discussion about the complexities surrounding the concept of equality allows the reader to consider larger societal issues about inclusion."--American Historical Review

"By combining narratives of African American women and white men and analyzing the Army Nurse Corps' policies regarding both race and gender, Threat links together gender and racial equality to provide a new framework in which to understand the 1960s civil rights movement. . . . Threat's arguments make Nursing Civil Rights an important work in understanding the gender and racial structure of the Army Nurse Corps in the 1960s and 1970s."--Register of the Kentucky Historical Society

"Charissa J. Threat accomplishes her purpose of broadening our thinking about discrimination history beyond race and gender to economic rights and labor as part of an equal rights agenda. . . . Threat effectively threads her argument, that although race and gender were key Civil Rights forces, labor and economics were also critical in shaping the agenda. . . . She effectively uses nursing, as should other scholars, to understand broader social and political issues." --Journal of the History of Medicine

"A welcome amendment to the history of nursing in the United States. . . . Threat's examination of nursing's organizational evolution yields new insights about the racial politics of alliance and division."--Women's Review of Books

"This book offers new insight into American history, and adds an important perspective to existing works on nursing history by Sarnecky, Vuic, and Hine. This excellent book will appeal to scholars and teachers of medicine and nursing history, military history, and civil rights and gender."--Bulletin of the History of Medicine

"A fascinating study of how nurses, black and white, men and women, fought for economic opportunities within the military."--Pacific Historical Review

"Nursing Civil Rights illuminates thoroughly the issues of racial and gender inclusion in the US military." --The Journal of African American History
"Particularly strong in the themes of civil rights and gender equality and adds important information on subjects that have been traditionally underrepresented in academic literature. Threat has made a substantial contribution to this important subject and has started a stimulating discussion."--Susan Malka, author of Daring to Care: American Nursing and Second Wave Feminism

"Nursing Civil Rights skillfully links African American and male nurses' efforts to integrate the military nursing corps to a broader history of struggles for racial and sexual equality in the early- and mid-twentieth century. This book makes a clear case that social change, wars, and the military are intimately connected."--Kara Dixon Vuic, author of Officer, Nurse, Woman: The Army Nurse Corps in the Vietnam War

"Nursing Civil Rights tells the untold story of how the United States' Army Nurse Corps, a profoundly conservative institution, came to represent real racial and gendered diversity--still elusive in both our society and in other branches of the armed services. Yet, this well documented and reasoned book does more. It uses the Army Nurse Corps as an example of the complicated intersections of race, gender, Cold War politics, and the quest of some women and men for social justice and equality. Nursing Civil Rights will be invaluable not only for those who want to understand the radicalized and gendered structure of our health care institutions, but also the culture within which we all live and work."--Patricia D'Antonio, author of American Nursing: A History of Knowledge, Authority, and the Meaning of Work
---
To order online:
//www.press.uillinois.edu/books/catalog/55hhq2xe9780252039201.html
To order by phone:
(800) 621-2736 (USA/Canada)
(773) 702-7000 (International)
Related Titles