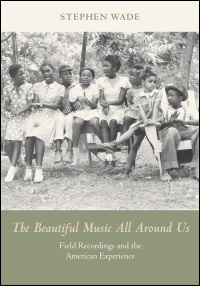 The Beautiful Music All Around Us
Field Recordings and the American Experience
Awards and Recognition:
• Judith McCulloh Public Sector Award, Society for Ethnomusicology, 2016
• ASCAP Deems Taylor Award, 2013
• Award for Excellence for Best Research in Folk, Ethnic, or World Music, Association for Recorded Sound Collections (ARSC), 2013
Uncovering the hidden histories of iconic American folksongs
The Beautiful Music All Around Us presents the extraordinarily rich backstories of thirteen performances captured on Library of Congress field recordings between 1934 and 1942 in locations reaching from Southern Appalachia to the Mississippi Delta and the Great Plains. Including the children's play song "Shortenin' Bread," the fiddle tune "Bonaparte's Retreat," the blues song "Another Man Done Gone," and the spiritual "Ain't No Grave Can Hold My Body Down," these performances were recorded in kitchens and churches, on porches and in prisons, in hotel rooms and school auditoriums. Documented during the golden age of the Library of Congress recordings, they capture not only the words and tunes of traditional songs but also the sounds of life in which the performances were embedded: children laugh, neighbors comment, trucks pass by.
Musician and researcher Stephen Wade sought out the performers on these recordings, their families, fellow musicians, and others who remembered them. He reconstructs the sights and sounds of the recording sessions themselves and how the music worked in all their lives. Some of these performers developed musical reputations beyond these field recordings, but for many, these tracks represent their only appearances on record: prisoners at the Arkansas State Penitentiary jumping on "the Library's recording machine" in a rendering of "Rock Island Line"; Ora Dell Graham being called away from the schoolyard to sing the jump-rope rhyme "Pullin' the Skiff"; Luther Strong shaking off a hungover night in jail and borrowing a fiddle to rip into "Glory in the Meetinghouse."
Alongside loving and expert profiles of these performers and their locales and communities, Wade also untangles the histories of these iconic songs and tunes, tracing them through slave songs and spirituals, British and homegrown ballads, fiddle contests, gospel quartets, and labor laments. By exploring how these singers and instrumentalists exerted their own creativity on inherited forms, "amplifying tradition's gifts," Wade shows how a single artist can make a difference within a democracy.
Reflecting decades of research and detective work, the profiles and abundant photos in The Beautiful Music All Around Us bring to life largely unheralded individuals--domestics, farm laborers, state prisoners, schoolchildren, cowboys, housewives and mothers, loggers and miners--whose music has become part of the wider American musical soundscape. The cloth edition also includes an accompanying CD that presents these thirteen performances, songs and sounds of America in the 1930s and '40s.
---
"Offers an understanding not only of a musical thread vital to American culture, but of America itself."--Publishers Weekly

"Extraordinary. . . . A masterpiece of humane scholarship."--The Wall Street Journal

"A treasure trove of scrupulous research and on-the-road reportage."--The Wall Street Journal, Eddie Dean

"These stories and the recordings — capturing the voices of everyday people, not pop stars — simply crackle."--Los Angeles Times

"Superbly illustrated and with a hundred pages of notes and bibliography, The Beautiful Music All Around Us is at once an essential reference work and a thoroughly enjoyable book."--Times Literary Supplement

"Astonishing. . . . These stories are long and richly detailed and irresistible."--Chicago Tribune, Rick Kogan

"As compelling as a good detective story, this investigation of field recordings of a bygone era will be embraced by music fans. This book reminds readers that they don't need pop icons to experience passionate music."--Library Journal

"Wonderfully evocative of a lost America."--Shepherd Express

"A unique, personal, thoroughly documented book, a labor of love. . . . valuable for those with an interest in folklore, popular music, southern cultures, and race relations. . . . Highly recommended."--Choice

"Astonishing. . . . These stories are compelling, moving and revelatory."--Chicago Tribune

"We should all thank Stephen Wade for this remarkable contribution to cultural scholarship."--ARSC Journal

"Wade's indefatigable research sets a high bar for folk music scholars, and his sensitive, searching prose provides an admirable example to writers."--Modernism/Modernity

"A fascinating window into a bygone world."--Boston Globe

"Combines the persistence of an investigative reporter with the loving hand of a storyteller who keeps peeling away the layers of the lives of his subjects. . . . Remarkable."--The Christian Science Monitor

"The Beautiful Music All Around Us is a virtuosic performance of a book. . . . By going back to examine the lives behind these recordings, we're also casting a mirror to our own lives in the last century, and what Wade uncovers about each is a powerful look at American humanity."--Journal of American Folklore

"Each chapter opens up an entire world and a fully furnished life. . . . The book is a meticulously researched look into several ordinary Americans who made some extraordinary music."--The Journal of American Culture

"Musically there is something here for everyone: gospel quartets, Appalachian ballads, fiddle and banjo music, hollers, children's songs, washboard bands, spirituals. Wade's sincerity, empathy, and his wide-ranging knowledge of Southern traditional music infuse every page. . . . Wade excels at . . . constructing local histories populated with multidimensional people. He demonstrates in no uncertain terms that the artists he profiles were not generic representatives of a tradition, but fascinating individuals who cared about creating a signature style and sound, each of whom made a difference."--Journal of the Society for American Music

"A wonderful book. It is well researched and beautifully written and makes a considerable contribution to the study of American folk music."--Old Time News
"A thorough and creative exploration of the histories of recordings made for the Library of Congress in the 1930s and the artists who made them. Stephen Wade has gathered a prodigious quantity of new information and left no stone unturned. Of interest and use to anyone interested in American music."--Norm Cohen, author of Long Steel Rail: The Railroad in American Folksong

"In revisiting the human transactions at the heart of these recordings, Wade essentially grants the songs a new life for a new age. Among the book's many virtues are its lively and imaginative narrative interpolations, its vivid song descriptions, its fascinating investigative work, its many colorful personalities and absorbing life-histories, and its often astonishingly trenchant accumulation of detail. A magisterial, monumental book of tremendous sympathy, scope, and imaginativeness."--Robert Cantwell, author of If Beale Street Could Talk: Music, Community, Culture
Publication of this book was supported by a grant from the L. J. and Mary C. Skaggs Folklore Fund
---
Musician, recording artist, and writer Stephen Wade is best known for his long-running stage performances of Banjo Dancing and On the Way Home. He also produced and annotated the Rounder CD collection that gave rise to this book, A Treasury of Library of Congress Field Recordings. Since 1996 his occasional commentaries on folksongs and traditional tunes have appeared on National Public Radio's All Things Considered. He lives in Hyattsville, Maryland.
To order online:
//www.press.uillinois.edu/books/catalog/55qpr7zm9780252036880.html
To order by phone:
(800) 621-2736 (USA/Canada)
(773) 702-7000 (International)
Related Titles