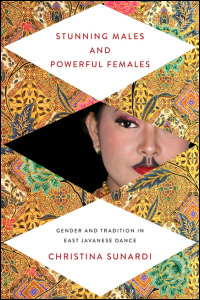 Stunning Males and Powerful Females
Gender and Tradition in East Javanese Dance
Awards and Recognition:
• Co-winner, Philip Brett Award, LBTQ Study Group of the American Musicological Society (AMS), 2016
• Honorable mention, Alan Merriam Prize, 2016
Blurring and redefining sex and gender boundaries through performance
In east Javanese dance traditions like Beskalan and Ngremo, musicians and dancers negotiate gender through performances where males embody femininity and females embody masculinity.
Christina Sunardi ventures into the regency of Malang in east Java to study and perform with dancers. Through formal interviews and casual conversation, Sunardi learns about their lives and art. Her work shows how performers continually transform dance traditions to negotiate, and renegotiate, the boundaries of gender and sex--sometimes reinforcing lines of demarcation, sometimes transgressing them, and sometimes doing both simultaneously. But Sunardi's investigation moves beyond performance. It expands notions of the spiritual power associated with female bodies and feminine behavior, and the ways women, men, and waria (male-to-female transvestites) access the magnetic power of femaleness.
A journey into understudied regions and ideas, Stunning Males and Powerful Females reveals how performances seemingly fixed by tradition are instead dynamic environments for cultural negotiation and change surrounding questions of sex and gender.
"Makes important contributions to gender studies and queer studies as well as to ethnomusicology and dance ethnology. In clear language and through richly textured ethnographic work, Sunardi develops a nuanced account of an ever-changing landscape of gender ideology as it is negotiated through the study, performance, and discourse of dance in east Java."--Henry Spiller, author of Erotic Triangles: Sundanese Dance and Masculinity in West Java

"Christina Sunardi's lively and personal account of the neglected performance culture of East Java, Indonesia, interweaves the words and stories of dancers, musicians, and choreographers with an account of the complex relationship between gender, embodiment, power, tradition, and memory. Her long-term ethnographic encounters as scholar and performer have yielded a close-grained and subtle analysis of culture and tradition founded on the dynamic multiplicity and diversity of music and dance within the region. An important contribution."--Felicia Hughes-Freeland, author of Embodied Communities: Dance Traditions and Change in Java
---
To order online:
//www.press.uillinois.edu/books/catalog/55wmm5gd9780252038952.html
To order by phone:
(800) 621-2736 (USA/Canada)
(773) 702-7000 (International)
Related Titles