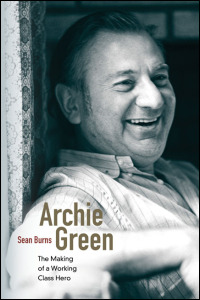 Archie Green
The Making of a Working-Class Hero
Awards and Recognition:
Awarded the CLR James Award for Best Book from the Working Class Studies Association, 2012.
Remembering a life devoted to preserving working-class traditions
Archie Green: The Making of a Working-Class Hero celebrates one of the most revered folklorists and labor historians of the twentieth century. Devoted to understanding the diverse cultural customs of working people, Archie Green (1917–2009) tirelessly documented these traditions and educated the public about the place of workers' culture and music in American life. Doggedly lobbying Congress for support of the American Folklife Preservation Act of 1976, Green helped establish the American Folklife Center at the Library of Congress. This significant national center for folklife preservation has undertaken a variety of projects including concert series, recordings, oral histories, and the Archive of Folk Culture, a vast collection of images, recordings, and written accounts that preserve the myriad cultural productions of Americans.
Capturing the many dimensions of Green's remarkably influential life and work, Sean Burns draws on extensive interviews with Green and his many collaborators to examine the intersections of radicalism, folklore, labor history, and worker culture with Green's work. Burns closely analyzes Green's political genealogy and activist trajectory while illustrating how he worked to open up an independent political space on the American Left that was defined by an unwavering commitment to cultural pluralism. This book includes a foreword by historian David Roediger and a final interview with Green, conducted by folklorist and media commentator Nick Spitzer.
---
"Burns has done a great service by writing Archie Green: The Making of a Working-Class Hero, a fine study that does justice to its subject's fascinating intellectual development and considerable impact."--Labor Studies Journal

"Burns provides a balanced, fair, and well-informed analysis based on labor scholarship. . . . It is well worth the read."--Labor

"Sean Burns's biography of this remarkable person gives the reader a clear sense of Green's varied life and career and of his many accomplishments. Archie Green made numerous contributions to folklore studies, labor and workplace oral history, and the history of recorded vernacular music. Scholars today would benefit from understanding those topics from this early proponent and practitioner of the "bottom-up" oral history perspective."--Oral History Review
"This sophisticated book ushers readers into Archie Green's compelling but always enigmatic presence, vividly and immediately summoning his personal, political, and intellectual pasts. Readers are welcomed into the community of purpose he spent a lifetime creating."--Robert Cantwell, author of If Beale Street Could Talk: Music, Community, Culture

"An intimate, first-person account of Green's life that illuminates ideological and strategic links between expressive culture and progressive action. Folklorists, labor historians, discographers, and students and scholars of American culture will treasure this book."--Robert McCarl, editor of Latinos in Idaho: Celebrando Cultura
Publication of this book was supported by a grant from the L. J. and Mary C. Skaggs Folklore Fund.
---
To order online:
//www.press.uillinois.edu/books/catalog/55xxs3ep9780252078286.html
To order by phone:
(800) 621-2736 (USA/Canada)
(773) 702-7000 (International)
Related Titles