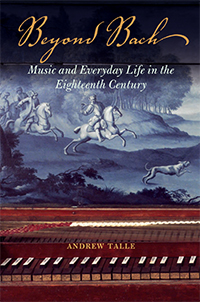 Beyond Bach
Music and Everyday Life in the Eighteenth Century
When Bach was just another hard-working composer
Reverence for J. S. Bach's music and its towering presence in our cultural memory have long affected how people hear his works. In his own time, however, Bach stood as just another figure among a number of composers, many of them more popular with the music-loving public.
Eschewing the great composer style of music history, Andrew Talle takes us on a journey that looks at how ordinary people made music in Bach's Germany. Talle focuses in particular on the culture of keyboard playing as lived in public and private. As he ranges through a wealth of documents, instruments, diaries, account ledgers, and works of art, Talle brings a fascinating cast of characters to life. These individuals--amateur and professional performers, patrons, instrument builders, and listeners--inhabited a lost world, and Talle's deft expertise teases out the diverse roles music played in their lives and in their relationships with one another. At the same time, his nuanced re-creation of keyboard playing's social milieu illuminates the era's reception of Bach's immortal works.
---
"For all its scrupulous erudition and factual density, Talle's writing is eminently readable: unpretentious, lively, and frequently humorous, as he reconstructs the routines and conventions his subjects observed in their musical pursuits. These included the role music played in their social, commercial, and even erotic lives. At times the text reads like a soap opera; at times it is almost a ribald, lascivious page-turner."--Robert L. Marshall, Early Music America

"Beyond Bach is a treasure trove of information about the place of music making in the daily lives of ordinary people in J.S. Bach's Germany. Andrew Talle's careful selection of citations from his fascinating source materials is woven together by easy-to-read prose, resulting in an entertaining and enjoyable read. . . . [Beyond Bach] deserves a place among the classics."--Swedish Journal of Music Research

"This book is an outstanding contribution to and expansion of our factual knowledge base regarding eighteenth-century German musical life, with emphasis on the keyboard." --BACH: Journal of the Riemenschneider Bach Institute

"I recommend [Beyond Bach] for anybody with an interest in the composer and the world that made him. 18th century Leipzig and its environs come to vivid life -- men, women, music, politics, inns and palaces. We learn a great deal about the "other" composers of the time, and Talle sends us off in search of their music. Learned, sophisticated, not at all condescending and sometimes very funny indeed, Talle's book is both admirable scholarship and a great 'read.'"--Tim Page, University of Southern California Thorton School of Music

"Beyond Bach is an indispensable text for lovers of eighteenth-century music and anyone who seeks to understand the broad social context of music not only by Bach but also by his contemporaries and adversaries." --Notes

"Andrew Talle's fluent and friendly style brings it all to life in a way that any Germanophile, and any lover of the Baroque, of Bach, and of history would find an irresistible and rewarding read. Very highly recommended!" --American Organist Magazine

"Talle discusses a rich, fascinating, hitherto largely inaccessible source material, and presents it in the form of an engaging, readable narrative, making this book not only appealing to specialists, but also to a more general audience interested in eighteenth-century German music and culture." --Eighteenth-Century Music

"Andrew Talle provides a richly textured discussion of the roles music played in the everyday." --Journal of the American Musicology Society
"Excellently researched and well-presented and engaging. Little has been done in approaching musicians of J. S. Bach's time in Germany through the lens of social history. As one of the first books to do this and to do it very well, Talle's volume marks a major contribution to the field."--Mark Peters, author of A Woman's Voice in Baroque Music: Mariane von Ziegler and J. S. Bach

"Talle's study is meticulously researched and documented, making excellent use of an impressively large number of primary and secondary sources. There is currently nothing like it in any language, and its significance goes well beyond Bach studies."--Steven Zohn, author of Music for a Mixed Taste: Style, Genre, and Meaning in Telemann's Instrumental Works
Publication is supported by a grant from the AMS 75 PAYS Endowment of the American Musicological Society, funded in part by the National Endowment for the Humanities and the Andrew W. Mellon Foundation.
---
To order online:
//www.press.uillinois.edu/books/catalog/56tcp7mn9780252040849.html
To order by phone:
(800) 621-2736 (USA/Canada)
(773) 702-7000 (International)
Related Titles
previous book
next book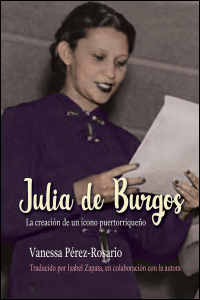 Julia de Burgos
La creación de un ícono puertorriqueño
Vanessa Pérez-Rosario