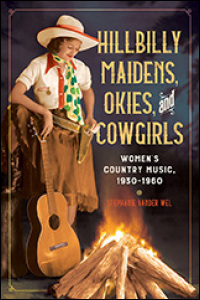 Hillbilly Maidens, Okies, and Cowgirls
Women's Country Music, 1930-1960
Awards and Recognition:
A PopMatters Best Non-Fiction Book of 2020
Pioneering women and their soundtrack of searching in country music
From the 1930s to the 1960s, the booming popularity of country music threw a spotlight on a new generation of innovative women artists. These individuals blazed trails as singers, musicians, and performers even as the industry hemmed in their potential popularity with labels like woman hillbilly, singing cowgirl, and honky-tonk angel.
Stephanie Vander Wel looks at the careers of artists like Patsy Montana, Rose Maddox, and Kitty Wells against the backdrop of country music's golden age. Analyzing recordings and appearances on radio, film, and television, she connects performances to real and imagined places and examines how the music sparked new ways for women listeners to imagine the open range, the honky-tonk, and the home. The music also captured the tensions felt by women facing geographic disruption and economic uncertainty. While classic songs and heartfelt performances might ease anxieties, the subject matter underlined women's ambivalent relationships to industrialism, middle-class security, and established notions of femininity.
---
"The genre's history combined with the sociology and demographics make for a serious but entertaining read, with the nostalgic echo of the melodies and lyrics embedded on every page." --Bookreporter.com

"Interesting points about country music, the culture it grew from, and the culture it influenced. " --Shepherd Express

"Required reading for anyone who takes their country music seriously." --Country Music People



"An exciting glimpse into how the field has matured well beyond its early focus on lyrical analysis and biographical portraits of important or forgotten figures." --PopMatters

"An excellent analysis of Rose Maddox, Patsy Montana, and Kitty Wells, among others, and their innovative ways of negotiating an industry that hemmed them in as cowgirls or honkytonk angels." --No Depression

"Recommended." --Choice
"Women's struggle for inclusion is one of the biggest stories in country music today. Vander Wel's rich history shows how female artists fought for a voice and made it central to country's stories of gender, class, and migration in mid–twentieth-century America."--Nadine Hubbs, author of Rednecks, Queers, and Country Music

"Vander Wel sheds important new light on the ways that women in country music have deployed their singing voices and theatrical skills to create female spaces and identities in country music."--Travis D. Stimeling, author of Cosmic Cowboys and New Hicks: The Countercultural Sounds of Austin's Progressive Country Music Scene
Publication of this book was supported by grants from the Judith McCulloh Endowment for American Music and from the AMS 75 PAYS Endowment of the American Musicological Society, funded in part by the National Endowment for the Humanities and the Andrew W. Mellon Foundation.
---
To order online:
//www.press.uillinois.edu/books/catalog/58eky4sk9780252043086.html
To order by phone:
(800) 621-2736 (USA/Canada)
(773) 702-7000 (International)
Related Titles