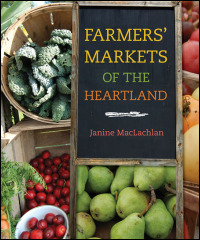 Farmers' Markets of the Heartland
A visual feast of the Midwest's homegrown bounty
Farmers' Markets of the Heartland celebrates the growers, producers, and artisans who bring fresh, nourishing food to their local communities every week. In this splendidly illustrated book, food writer and self-described farm groupie Janine MacLachlan embarks on an extensive tour of seasonal markets and farmstands throughout the Midwest, sampling local flavors and colors from Michigan, Ohio, Indiana, Illinois, Missouri, Iowa, Minnesota, and Wisconsin.
MacLachlan conducts delicious research as she travels across the Heartland to meet farmers, taste their food, and explore how their businesses thrive in the face of an industrial food supply. Finding farmers' markets in leafy parks and edgy neighborhoods, and even one nestled into a national park, MacLachlan tells the stories of a pair of farmers growing specialty crops on a few acres of northern Michigan for just a few months out of the year, an Ohio cattle farm that has raised heritage beef in the same family since 1820, and a Minnesota farmer who has made it her mission to get folks growing the Jimmy Nardello sweet Italian frying pepper. Along the way, she savors vibrant red carrots, slurpy peaches, vast quantities of specialty cheeses, and some of the tastiest pie to cross anyone's lips.
Informed by debates about eating local, seasonal crops, organic farming, and biodiversity, Farmers' Markets of the Heartland tantalizes with special recipes from farm-friendly chefs and dozens of luscious color photographs that will inspire you to harvest the homegrown flavors in your own neighborhood.
---
"Fans of Midwestern farms and farmers markets are in for a literary treat. . . . Filled with tempting photographs and select recipes, the book focuses on folks as much as food."--Chicago Tribune

"What shines through in the book is the vibrancy of the people involved in the local food movement and the real importance of what they do. . . . To read the stories of these farmers, managers, bakers, cheese makers, and others it to get a glimpse of our best possible food future."--Examiner.com

"[MacLachlan's] enthusiastic tone begs us to take a road trip, and discover the rural, simple beauty and culinary treasures of the areas about which she writes. . . . [An] honorable, just, and heartfelt homage to the hard work and determination of people who continue (or are new to) the Heartland's centuries-old farming traditions."--The Local Beet: Chicago

"MacLachlan goes beyond farmers' markets to tell readers about farmland preservation, heritage breeds, sustainable food production and other topics."--The News-Gazette

"This book should inspire readers to check out the market nearest them and perhaps to visit other markets while traveling through the Midwest."--Indiana Magazine of History
"For the twenty years I've known Janine MacLachlan, she has been fascinated by farms, farmers, and the nourishing food they share with us. This is the book she was meant to write: the pictures are beautiful, the stories inspiring, and the recipes tempting. Janine's passion and joy are contagious. No matter where you live, Farmers' Markets of the Heartland will encourage you to follow Janine's lead and find pleasure and goodness in the markets near you."--Dorie Greenspan, author of Around My French Table: More Than 300 Recipes from My Home to Yours

"This book is about change-the-world people. Most of them don't see themselves that way, but that is what they are. Between these covers Janine MacLachlan tells the stories of Heartland farmers, their farmers' markets, and the remarkable foods they create. You will definitely want to get into the kitchen and cook their food. But what comes home here are all the ways farmers are making their beliefs work in the real world, and how they're reaching out into their communities. This is not your usual farmers' market cookbook; Janine gives us a glimpse of how small-scale agriculture might look in the future."--Lynne Rossetto Kasper, host of The Splendid Table®, public radio's national food show from American Public Media

"Janine MacLachlan provides vivid portraits of the farmers and producers who make each market unique and representative of local foods. This book will be much enjoyed by farmers' markets regulars, foodies who love to read about good locally produced food (it is a heroic tale), cookery book lovers, and a wide audience interested in midwestern culture."--Bruce Kraig, president, Culinary Historians of Chicago, and Greater Midwest Foodways Alliance

"What an inspiring read! Illustrating the creativity, diversity, and conscientiousness of Midwestern market farming and food culture, Farmers' Markets of the Heartland provides a fresh take on a vital piece of American identity."--David Rand, Board of Directors, National Farmers Market Coalition, and Partner at Quarter Circle Seven Ranch in Marengo, Illinois
---
To order online:
//www.press.uillinois.edu/books/catalog/58wcm2mc9780252035555.html
To order by phone:
(800) 621-2736 (USA/Canada)
(773) 702-7000 (International)
Related Titles