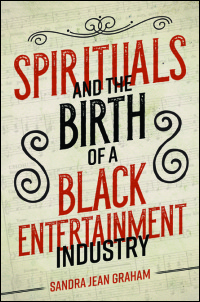 Spirituals and the Birth of a Black Entertainment Industry
Awards and Recognition:
• A Choice Outstanding Title, 2018
• Music in American Culture Award, American Musicological Society, 2019
Showbiz shaping sacred song's soaring success
Spirituals performed by jubilee troupes became a sensation in post–Civil War America. First brought to the stage by choral ensembles like the Fisk Jubilee Singers, spirituals anchored a wide range of late nineteenth-century entertainments, including minstrelsy, variety, and plays by both black and white companies.
In the first book-length treatment of postbellum spirituals in theatrical entertainments, Sandra Jean Graham mines a trove of resources to chart the spiritual's journey from the private lives of slaves to the concert stage. Graham navigates the conflicting agendas of those who, in adapting spirituals for their own ends, sold conceptions of racial identity to their patrons. In so doing they laid the foundation for a black entertainment industry whose artistic, financial, and cultural practices extended into the twentieth century.
A companion page contains jubilee troupe personnel, recordings, and profiles of 85 jubilee groups. The page can be found
Here
---
"A pleasure to read, the book weaves meticulous research into an engaging narrative that vividly enriches understanding of postbellum American music and theater. Highly recommended." --Choice

"[A] one-of-a-kind title . . . Many volumes address spirituals themselves, but few detail the actual exponents of this important African American tradition in such a refreshingly disarming way."--Library Journal

"This book is recommended to anyone with an interest in American folk and popular music, and it should provoke many followers-up studies that explore its themes in even greater depth as well as their extensions into the twentieth century." --Journal of Folklore Research

"Music historians will find Spirituals and the Birth of a Black Entertainment Industry fascinating because instead of rehashing the already well-researched lyric import of the spirituals, Graham looks at the art form as the spark that ignited an entertainment industry." --ARSC Journal

"A detailed and valuable genealogy of the spiritual." --The Journal of Southern History


"Sandra Graham breaks new ground in her nuanced examination of the white-controlled spiritual or jubilee industry, and of claims for musical and cultural authenticity by black college and independent jubilee groups, as well as white and black performers of blackface minstrelsy, American folk music, and European classical traditions."--Portia K. Maultsby, coeditor of Issues in African American Music: Power, Gender, Race, Representation and African American Music: An Introduction, second edition

"A detailed, cogent, and fascinating history of the popularization of Negro spirituals [that is] thoroughly documented and covers a truly vast range of information. One of the especially distinctive features of Graham's approach is its careful consideration of musical elements and how they figure in defining objects under study." --Thomas L. Riis, author of Frank Loesser
Publication of this book is supported by the AMS 75 PAYS Endowment of the American Musicological Society, funded in part by the National Endowment for the Humanities and the Andrew W. Mellon Foundation; by the Babson Faculty Research Fund; and by a grant from the H. Earle Johnson Fund of the Society for American Music.
---
To order online:
//www.press.uillinois.edu/books/catalog/59cfn2tx9780252041631.html
To order by phone:
(800) 621-2736 (USA/Canada)
(773) 702-7000 (International)
Related Titles