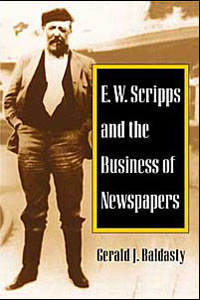 E. W. Scripps and the Business of Newspapers
Edward Willis Scripps revolutionized the newspaper industry by applying modern business practices to his chain of more than forty newspapers and creating a telegraphic news service and an illustrated news features syndicate. Convinced that big business was corrupting the American press, Scripps actively resisted supporting his newspapers through advertising. He also aimed them at the working class, an audience virtually ignored by most newspaper publishers of his era.
Maintaining that the press should support the democratic endeavor by informing its largest constituency, Scripps succeeded in creating a string of small, cheap newspapers that were advocates for the common people: crusading for lower streetcar fares, free textbooks for public school children, municipal ownership of utilities, and pure food legislation, among many other causes. Gerald Baldasty's portrait of this long-neglected entrepreneurial giant is the first major academic study to draw on Scripps's business correspondence.
---
"Baldasty recounts behind-the-scenes family intrigues and conflicts over ownership in this detailed, well-researched book." — Vanessa Bush, Booklist
"Baldasty has written the type of book we all like to cite as a good example to our students. . . . This study of Edward Willis Scripps, an early press baron who was an advocate for the emerging working class after the Civil War, is based on manuscripts, newspapers, and other primary sources and integrates findings from the wide array of secondary sources about the turn-of-the-century years that also witnessed the early careers of Joseph Pulitzer and William Randolph Hearst. Baldasty's book rewards the tendency for historians to read the footnotes." -- Donald L. Shaw, American Historical Review
"Offers a specialized examination of Scripps's business practices and assumes a basic background in newspaper history. A welcome addition to academic journalism collections." — Library Journal
"Tightly written with an exemplary notes section. . . . Fills a gap in the history of newspaper business and demonstrates the value of using quantitative methods and original records in historical research." — Choice
"Written with exemplary clarity. . . . A fascinating contribution to the history of newspaper publishing." — Christine Shaw, Business History
"An exciting, new offering . . . . Baldasty's analysis is crisp, well-thought and executed. He has made a tremendous contribution by his astute insights and thorough research. . . . A significant contribution to the literature of journalism history."— Barbara Straus Reed, EH Net (H-Net Reviews)
"Highly readable at the same time that it is carefully based on the evidence. Baldasty is nearly invisible as an analyst and interpreter; yet the presentation of the evidence and organization of the book represent his behind-the-scenes analysis. The book is especially valuable for demonstrating how systematic business practices both succeeded and failed in Scripps's development of the first modern chain. It is an important example of a well done business history of the press that sticks to business." — Carolyn Stewart Dyer, Journalism History
"Fascinating. . . . Baldasty successfully achieves his goal of 'raising' the low profile of E. W. Scripps." — Louis Cain, Journal of Economic History
"This book's main strength is its rich data on newspaper content in the late nineteenth and early twentieth centuries. . . . Well written and meticulously documented, and it generously offers prominent citations of the work of other, often younger, scholars. It is a most welcome addition to the literature." — William S. Solomon, The Journal of American History
"Baldasty has expertly woven Scripps' newly available business correspondence into an illuminating look at this major and contradictory figure in the development of today's newspaper." -- Anne Hecker, Journal of the West
To order online:
//www.press.uillinois.edu/books/catalog/59fbq7fs9780252067501.html
To order by phone:
(800) 621-2736 (USA/Canada)
(773) 702-7000 (International)
Related Titles