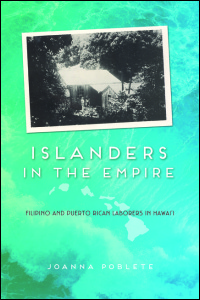 Islanders in the Empire
Filipino and Puerto Rican Laborers in Hawai'i
Awards and Recognition:
• Best Book Award in History, Filipino Section of the Association for Asian American Studies, 2018
A unique comparative study of two groups of colonials under U.S. imperialism
In the early 1900s, workers from newly instated U.S. colonies in the Philippines and Puerto Rico held unusual legal status. Denied citizenship, they nonetheless had the right to move freely in and out of U.S. jurisdiction. As a result, Filipinos and Puerto Ricans could seek jobs in the United States and its territories despite the anti-immigration policies in place at the time.
JoAnna Poblete's Islanders in the Empire: Filipino and Puerto Rican Laborers in Hawai'i takes an in-depth look at how the two groups fared in a third new colony, Hawai'i. Using plantation documents, missionary records, government documents, and oral histories, Poblete analyzes how workers interacted with Hawaiian government structures and businesses, how U.S. policies for colonial workers differed from those for citizens or foreigners, and how the policies served corporate and imperial aims. As Poblete shows, the workers' advantages came with significant drawbacks. Unlike foreign nationals, Filipinos and Puerto Ricans lacked access to consular and other officials with the power to intercede on labor and other issues. Instead, workers often had to rely on unofficial community mediators who also served employers in positions of authority. A rare tandem study of two groups on foreign soil, Islanders in the Empire offers new views on American imperialism and labor issues of the era.
---
"An innovative approach that adds nuance to our knowledge of Hawai'i's immigrant workers. . . . Poblete is successful in shifting our attention to empire and away from insular island accounts of Hawaiian history, and in the process offers ideas for new questions about Hawai'i's place in a much wider American colonial project."--American Historical Review

"Deeply rooted in archival sources, oral histories, and written with concise prose, Poblete does a remarkable job situating Hawai'i, Puerto Rico and the Philippines in the context of U.S. empire in the Pacific and the Caribbean. She illustrates how U.S. expansion into these regions was vital for it to produce a global imperial machine that circulated not just soldiers and weapons between colonial outposts, but laborers."--The Hawaiian Journal of History

"Unique in its comparative focus on labor migration among U.S. colonies, it is essential reading for those interested in the Filipinos and Puerto Ricans in Hawai'i during the first four decades of the twentieth century."--New West Indian Guide

"A finely researched book. . . . Through its exploration of the nuanced realities of "intracolonial" migration and existence, the book is a highly valuable addition to the historiography of US imperialism and of labour relations in the Progressive Era, which will also be of particular interest to students of Hawaiian, Puerto Rican, and Philippine history."--Journal of American Studies

"Islanders in the Empire connects the imperial experiences of three groups of subjected peoples to each other, thereby exposing the long-term and widespread consequences of U.S. expansionism across time and geographic locations."--Western Historical Quarterly

"A valuable addition to the labor history of Hawaii . . . [Islanders in the Empire] sheds much light on the role of the planters, their agents, and the government."--Journal of American History
"I know of no scholar who has tackled the histories of Filipino and Puerto Rican labor in Hawai'i in one cohesive and extensive volume, and with such intensity in its comparative scope. Poblete's skills as a deft historian weave personal everyday stories with historical, structural, and policy analysis in ways that are exceptionally nuanced and deeply illuminating."--Rick Bonus, author of Locating Filipino Americans: Ethnicity and the Cultural Politics of Space

"Poblete's pathbreaking work is unique for illuminating the logics of empire through the lens of transnational migration and labor history. It should stand out among the growing scholarship on the U.S. empire, Puerto Rico, and the Philippines."--Julian Go, author of Patterns of Empire: The British and American Empires, 1688–Present
---
To order online:
//www.press.uillinois.edu/books/catalog/59kft5kt9780252038297.html
To order by phone:
(800) 621-2736 (USA/Canada)
(773) 702-7000 (International)
Related Titles