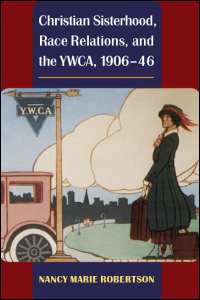 Christian Sisterhood, Race Relations, and the YWCA, 1906-46
Awards and Recognition:
Richard L. Wentworth Prize in American History, 2008
Black and white women's struggles over race relations in the YWCA and beyond
As the major national biracial women's organization, the Young Women's Christian Association (YWCA) provided a unique venue for black and white women to respond to American race relations during the first half of the twentieth century. Nancy Marie Robertson analyzes how women of both races employed different understandings of "Christian sisterhood" in their responses. Although the YWCA was segregated at the local level, African American women were able to effectively challenge white women over YWCA racial policies and practices in both the South and the North. These struggles laid the groundwork for the subsequent civil rights movement. In addition, YWCA activism in these years provided a bridge from the women's suffrage movement to the modern women's movement. Robertson's narrative draws on official YWCA records as well as the personal accounts of women associated with the YWCA, including Anna Arnold Hedgeman, Alice Dunbar-Nelson, Dorothy Height, Abby Aldrich Rockefeller, and Katharine Du Pre Lumpkin.
---
"This is not a history of inevitable progress, but a history of continuing tension and negotiation. . . . Thoroughly documented. Recommended."--Choice

"This book would be a great addition to classes that focus on feminist history, women's organization, and race relations."--Contemporary Sociology

"Robertson has written a thoroughly researched and comprehensive history that, while focused on the YWCA, tells the larger story of interracial work and is essential reading for those interested in the long civil rights movement."--American Historical Review

"A critical, well-written, and fascinating addition to the literature of 20th-century women's history."--Nonprofit and Voluntary Sector Quarterly

"This book makes a valuable contribution to our understanding of American Protestant women's religious history and to interactions between black and white women in this important independent women's organization."--Church History

"An important contribution to the literatures on early-twentieth-century women's history, religion, and the civil rights movement. Most significantly, Nancy Marie Robertson has demonstrated the ways in which religion played a vital role in promoting and sustaining the interracial character of the Young Women's Christian Association."--Journal of Southern History

"A thoughtful, concise, and well-documented analysis that adds a new dimension to the growing literature on middle-class women's interracial activities."--Journal of American Ethnic History

"An important contribution to the scholarship on race relations and the origins of the modern civil rights movement, and enhances the historical literature on women's activism and on American religious institutions."--Annals of Iowa
"This richly detailed book tells the largely untold story of the Young Women's Christian Association 'coming around' on race relations in the early twentieth century. Robertson offers a longer and more complex history of the civil rights movement, grounding the post-World War II movement in the work of progressive women decades earlier. In this rendering, women (both white and black) play a far more prominent role, and religion is a more consistently important factor, than in previous studies of the movement."--Margaret Lamberts Bendroth, author of Fundamentalism and Gender, 1875 to the Present

"Nancy Robertson's Christian Sisterhood provides one of the most sensitive and nuanced accounts to date of black and white women's collaboration in the name of progress. Attentive to national, local, and regional dynamics, the differing assumptions of black and white women, working-class and middle-class, and the perils of those differences for black women in the field, Robertson provides a new understanding of the crucial role of one of the largest national women's organizations in guiding us from the women's movement of the early twentieth century into the civil rights movement of the late twentieth century."--Sarah Deutsch, author of Women and the City: Gender, Space, and Power in Boston, 1870-1940
---
To order online:
//www.press.uillinois.edu/books/catalog/59tsk7wm9780252031939.html
To order by phone:
(800) 621-2736 (USA/Canada)
(773) 702-7000 (International)
Related Titles