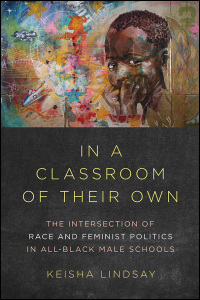 In a Classroom of Their Own
The Intersection of Race and Feminist Politics in All-Black Male Schools
Awards and Recognition:
• Michael Harrington Book Award, New Political Science Caucus of the American Political Science Association, 2019
Antifeminist and antiracist currents within an education reform movement
Many advocates of all-black male schools (ABMSs) argue that these institutions counter black boys' racist emasculation in white, "overly" female classrooms. This argument challenges racism and perpetuates antifeminism.
Keisha Lindsay explains the complex politics of ABMSs by situating these schools within broader efforts at neoliberal education reform and within specific conversations about both "endangered" black males and a "boy crisis" in education. Lindsay also demonstrates that intersectionality, long considered feminist, is in fact a politically fluid framework. As such, it represents a potent tool for advancing many political agendas, including those of ABMSs supporters who champion antiracist education for black boys while obscuring black girls' own race and gender-based oppression in school. Finally, Lindsay theorizes a particular means by which black men and other groups can form antiracist and feminist coalitions even when they make claims about their experiences that threaten bridge building. The way forward, Lindsay shows, allows disadvantaged groups to navigate the racial and gendered politics that divide them in pursuit of productive—and progressive—solutions.
Far-thinking and boldly argued, In a Classroom of Their Own explores the dilemmas faced by professionals and parents in search of equitable schooling for all students—black boys and otherwise.
---
"Far-thinking and boldly argued, In a Classroom of Their Own explores the dilemmas faced by professionals and parents in search of equitable schooling for all students -- black boys and otherwise." --Ibram X. Kendi, Black Perspectives

"Linday's engagement with this subject is nuanced, sensitive, and sophisticated." --Teachers College Record

"Does an excellent job revealing the shortcomings surrounding current conversations regarding school reform." --Men and Masculinities

"Lindsay's book is a much-needed contribution to the examination of education for black children. . . . This book is a must-read for scholars interested in education, single-sex education, a history of intersectionality, and feminist politics." --Politics & Gender
"A dispassionate and well-reasoned argument. None of the other books on the 'boy crisis in schools' or 'pushout of girls in schools' or 'myths about the black male crisis' deal in such a devoted fashion with both the case of all-black male schools and philosophy."--Tiffany Willoughby-Herard, author of Waste of a White Skin: The Carnegie Corporation and the Racial Logic of White Vulnerability

"In this brilliant study of the All-Black-Male-School Movement, Keisha Lindsay makes a critical contribution to contemporary policy debates, demonstrating how mistaken notions about the immediate grasp of oppressive experience lead social justice activists seriously astray, while also theorizing political means to alter institutional practices and structures of power toward more progressive ends."--Mary Hawkesworth, author of Embodied Power: Demystifying Disembodied Politics

"For anyone who worries about the vexed relationship of race, gender, and justice in American schools, Keisha Lindsay's A Classroom of Their Own is a revelation. Lindsay offers an intersectional interpretation of the politics of all-male black schools and builds on the work of political theorists, activists, and education specialists to envision educational reforms that advance the well-being of all children."--Lawrie Balfour, author of Democracy's Reconstruction: Thinking Politically with W. E. B. Du Bois

"Keisha Lindsay's In a Classroom of Their Own is the book on all black male schools (ABMSs) that I've been waiting for. The way she draws on intersectional analysis to illustrate how many black male supporters of ABMSs can articulate a simultaneously antifeminist and antiracist politics is as groundbreaking as it is sobering. Rather than dismissing intersectional analysis because of its potential to foster antifeminist, homophobic thought and practices, Lindsay identifies a more thoughtful, counterintuitive way to combat the race-gender achievement gap: form coalitions that interrogate the liberatory as well as less-than-liberatory potential of one's own and others' experience. In a Classroom of Their Own is the kind of critical analysis we need to ensure that today's and future generations of black students can experience formal education that fosters self-determination and liberation."--Lance McCready, author of Making Space for Diverse Masculinities: Difference, Intersectionality, and Engagement in an Urban High School
Support for this research was provided by the University of Wisconsin–Madison Office of the Vice Chancellor for Research and Graduate Education.
---
To order online:
//www.press.uillinois.edu/books/catalog/62dtt8rt9780252041730.html
To order by phone:
(800) 621-2736 (USA/Canada)
(773) 702-7000 (International)
Related Titles