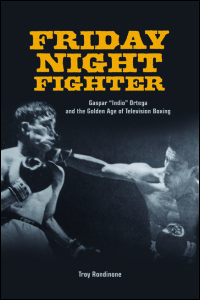 Friday Night Fighter
Gaspar "Indio" Ortega and the Golden Age of Television Boxing
The rise of televised boxing and one of its most watched and beloved fighters
Friday Night Fighter relives a lost moment in American postwar history, when boxing ruled as one of the nation's most widely televised sports. During the 1950s and 1960s, the sport held the attention of a generation of soldiers who had returned to the United States to find a strange new world of material abundance and Cold War anxiety. Viewers tuned in weekly, sometimes even daily, to watch widely recognized fighters engage in primordial battle; the Gillette Cavalcade of Sports Friday Night Fights was the most popular fight show. Boxing even helped drive sales of television sets, as it provided soldiers and their sons (and daughters) with a unique form of bonding within their own homes.
In this book, Troy Rondinone follows the dual narratives of the Friday Night Fights show and the individual story of Gaspar "Indio" Ortega, a boxer who appeared on prime-time network television more than almost any other boxer in history. From humble beginnings growing up poor in Tijuana, Mexico, Ortega personified the phenomenon of postwar boxing at its greatest, appearing before audiences of millions to battle the biggest names of the time, such as Carmen Basilio, Tony DeMarco, Chico Vejar, Benny "Kid" Paret, Emile Griffith, Kid Gavilan, Florentino Fernández, and Luis Manuel Rodriguez. For Ortega and the rest of these fighters, television provided a chance at celebrity that otherwise would likely not have existed. Further, the boxers represented a remarkably diverse group of television stars compared to the solidly white offerings that the networks mainly served up.
Rondinone explores the factors contributing to the success of televised boxing, including the rise of television entertainment, changing attitudes toward race in America, the role of a "reality" blood sport, Cold War masculinity, and the influence of organized crime. At times evoking the drama and spectacle of the Friday Night Fights themselves, this volume is a lively examination of a time in history when Americans crowded around their sets to watch the main event.
---
"Troy Rondinone's history of television's first go-round with boxing is outstanding in every respect. Twinning it with the riveting life story of the popular veteran of 200 or so pro fights was inspired."--Cyber Boxing Zone

"A superior piece of sports history. . . . Friday Night Fighter is not only a lively historical analysis of boxing, it is consistently perceptive, avoids sentimentality, and yet is reassuringly sympathetic. . . . A treasure trove."--Journal of Sport History

"Rondinone unearths two important histories. . . . He writes with a nostalgic eye, using sparkling prose,and he culls from diverse sources."--The Journal of American History

"A fascinating biography. . . . Rondinone links televised boxing's success to television's need for prime-time programming, the role of a blood sport, changing attitudes toward race, Cold War masculinity and the impact of organized crime. Highly recommended."--Choice
"El Indio Gaspar Ortega will always be our first champion. We love him, we cherish him, and we respect him."--Carlos Santana

"Troy Rondinone masterfully and nostalgically captures the romance of boxing on television in the 1950s. It was a sport on the air, in your living room, and at its crossroads. The Friday Night Fighters may be gone--but they will never be forgotten."--Russell Sullivan, author of Rocky Marciano: The Rock of His Times

"This excellent history makes a truly significant contribution to sports scholarship and American studies. With colorful detail, Rondinone uncovers the world of the Latino fighter in the 1950s and discusses important cultural aspects of boxing in this era."--Gerald L. Early, author of A Level Playing Field: African American Athletes and the Republic of Sports
---
To order online:
//www.press.uillinois.edu/books/catalog/62tah7xn9780252037375.html
To order by phone:
(800) 621-2736 (USA/Canada)
(773) 702-7000 (International)
Related Titles