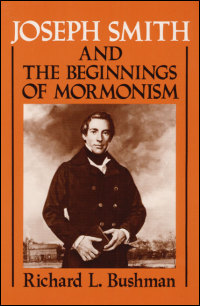 Joseph Smith and the Beginnings of Mormonism
Awards and Recognition:
Winner of the David Woolley Evans and Beatrice Evans Biography Award and a History Book Club selection, 1985.
The core of Mormon belief was a conviction about actual events. The test of faith was not adherence to a certain confession of faith but belief that Christ was resurrected, that Joseph Smith saw God, that the Book of Mormon was true history, and tht Peter, James, and John restored the apostleship. Mormonism was history, not philosophy.
It is as history that Richard L. Bushman analyzes the emergence of Mormonism in the early nineteenth century. Bushman, however, brings to his study a unique set of credentials - he is both a prize-winning historian and a faithful member of the Latter-day Saints church. For Mormons and non-Mormons alike, then, his book provides a very special perspective on an endlessly fascinating subject.
Building upon previous accounts and incorporating recently discovered contemporary sources, Bushman focuses on the first twenty-five years of Joseph Smith's life - up to his move to Kirtland, Ohio, in 1831. Bushman shows how the rural Yankee culture of New England and New York - especially evangelical revivalism, Christian rationalism, and folk magic - both influenced and hindered the formation of Smith's new religion.
Mormonism, Bushman argues, must be seen not only as the product of this culture, but also as an independent creation based on the revelations of its charismatic leader. In the final analysis, it was Smith's ability to breathe new life into the ancient sacred stories and to make a sacred story out of his own life which accounted for his own extraordinary influence. By presenting Smith and his revelations as they were viewed by the early Mormons themselves, Bushman leads us to a deeper understanding of their faith.
---
"Bushman has made a profound contribution to the understanding of Mormonism at its most critical juncture . . . A major work in Mormon historiography."--Dialogue: A Journal of Mormon Thought

"Vividly reconstructs the family and social background of the Mormon prophet."--New York Review of Books
"A brilliant piece of research and writing by one of America's top historians. It is written with style and felicity, and it deals with all the difficult topics that must be probed in describing and interpreting the controversial early history of Mormonism. It is simply an outstanding work."--Leonard J. Arrington, co-author of The Mormon Experience: A History of the Latter-day Saints
---
To order online:
//www.press.uillinois.edu/books/catalog/63cqw8ge9780252011436.html
To order by phone:
(800) 621-2736 (USA/Canada)
(773) 702-7000 (International)
Related Titles