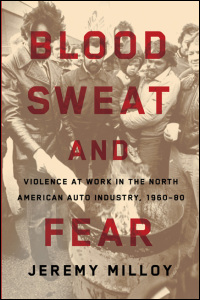 Blood, Sweat, and Fear
Violence at Work in the North American Auto Industry, 1960-80
Awards and Recognition:
• Cugnot Award, the Society of Automotive Historians, 2018
The paradigm shift in workplace violence during an era of change
Going postal. We hear the chilling phrase and think of the rogue employee who snaps. But Blood, Sweat, and Fear shows that on-the-job bloodshed never occurs in isolation. Using violence as a lens, Jeremy Milloy provides fresh insights into the everyday workings of capitalism, class conflict, race, and gender in the United States and Canada. The result is a study that reveals the workplace as a battleground--one that saw a late-century paradigm shift from the collective violence of strikes and riots to the individualized violence of assaults and shootings.
Explosive and original, Blood, Sweat, and Fear brings historical perspective to contemporary debates about North American workplace violence.
---
"A significant contribution to a labor history scholarship that provides insight into contemporary understandings of workplace violence. . . . Highly recommended."--Choice

"This is a thought-provoking and excellent read for scholars, students, and those interested in workplace peace." --American Historical Review

"A compelling description of changing understandings of violence and the implications for class identities." --Journal of American History

"Milloy paints a harrowing picture....A compelling case for the differences between the plants, both in their level of violence and the explanations for the disparity." --The Michigan Historical Review

"Recommended to anyone trying to understand the dynamics of workplace violence, the historical decline in collective bargaining power, the effects of racism and class divides on workplace conflict, and the systemic issues created by stifling the negotiating power of labor." --U.S. Bureau of Labor Statistics

"[Blood, Sweat, and Fear] is a strong challenge to prevailing nostalgic notions about the placid conditions of work at the height of twentieth-century industrial America — and raises questions about the omnipresent nature of violence at work under capitalism in any era." --Jacobin
"Blood, Sweat, and Fear interrogates a fundamental, yet relatively unexplored, element of rough working-class masculine culture—violence. It is an outstanding piece of labor history, one that opens windows into the workers' worlds inside the Chrysler plants in Detroit and Windsor."--Steve Meyer, author of Manhood on the Line: Working-Class Masculinities in the American Heartland

"Never before has workplace violence among autoworkers been theorized and articulated in the sophisticated and comprehensive fashion that is evident in this book. We need this research for any number of reasons, not the least of which is to situate the source of workplace violence where it belongs—within the labor process."--Robert Storey, McMaster University
---
To order online:
//www.press.uillinois.edu/books/catalog/63cwe4wq9780252083389.html
To order by phone:
(800) 621-2736 (USA/Canada)
(773) 702-7000 (International)
Related Titles