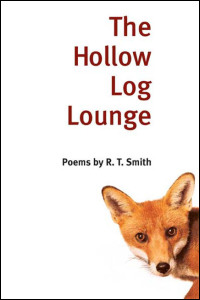 The Hollow Log Lounge
Poems
Awards and Recognition:
Winner of the Maurice English Poetry Award, 2004.
In THE HOLLOW LOG LOUNGE the humor, music and storytelling of the small town South rise and converge in a chorus of wild and shapely voices.
"This is no fairy tale. / It's all fantastic and bizarre and true. / It's my life, a raspy song, that sounds better if you sing along."
The men and women who live and work near Opelika, Alabama, gather at the Hollow Log Lounge. There, under the watchful eye of the stuffed fox behind the bar, they unload their gripes and worries, tell their stories, argue, joke, commune, complain, and confess.
In this collection of poems, R. T. Smith paints a vividly imagined portrait of the community in this small-town bar, capturing the chorus of the patrons' voices echoing off the knotted wood-paneled walls. Smith's stand-in, Sam Buckhannon, scribbles stories heard and overheard as tongues loosened by liquor spin out monologues in which southern idiom and vernacular seem perfectly at home within the constraints of measured verse.
---
"The Hollow Log Lounge is that sort of grand and seedy thrill-filled pleasure palace your mother warned you about-—only much worse and therefore, that much better. This book will remind you of Edwin Arlington Robinson and Edgar Lee Masters, not to mention Flannery O'Connor, but R. T. Smith writes people and place like no one else. Step in, ladies and gents. Have a seat, a stool, a booth. This much is sure. You'll never be the same." –- David Citino, author of The Book of Appassionata: Collected Poems
[The much-preferred blurb is Citino's!] "The range of personality is remarkable, coming as it does from one remarkable pen, and Thomas plays with rhyme so artfully that a reader is never likely to doubt the spontaneity of the voices. This is a collection to be read through, front to back; it's not a novel, but it's a coherent adventure." – Miller Williams, author of Points of Departure and The Ways We Touch
"Smith contributes this impressive new collection...which he has rendered with humility and precision." -- The Antioch Review
To order online:
//www.press.uillinois.edu/books/catalog/63fcn8dh9780252028625.html
To order by phone:
(800) 621-2736 (USA/Canada)
(773) 702-7000 (International)
Related Titles