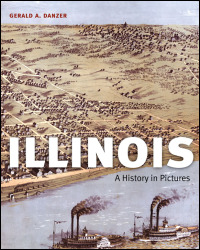 Illinois
A History in Pictures
Awards and Recognition:
Received a Superior Achievement Award from the Illinois State Historical Society, 2012.
A wide-ranging illustrated journey through the Prairie State's past
Offering a rich and expansive history that extends far beyond the familiar anecdotes about Abraham Lincoln and the Great Chicago Fire, Illinois: A History in Pictures gathers drawings, engravings, photographs, maps, and other illustrations to inspire imaginations young and old to envision the history of Illinois in all its depth and breadth. Gerald A. Danzer distills the story of Illinois from these visual artifacts, exploring the state's history from its earliest peoples and their encounters with European settlers, through territorial struggles and the strife of the Civil War, and into the modern era of industry and urbanization.
More than one hundred images capture dramatic moments and illustrate the growth and changes in the Prairie State's history, from the settlement of its territories to the construction of homes, factories, and statehouses. Danzer pays special attention to the maps of Illinois, showing how the state's character and prosperity have been shaped by the Great Lakes and great rivers at its borders and by the roads and railroads built to connect its people.
Attending closely to the details of daily life, Illinois: A History in Pictures also focuses on notable people throughout the state's history, including the Ottawa Chief Pontiac and the Sauk Chief Black Hawk, pioneers of social justice Jane Addams and Mother Jones, sports heroes such as Red Grange, and of course American leaders Abraham Lincoln and Ronald Reagan. Danzer connects personal and local experiences to national affairs and global perspectives, pointing to Illinois's diverse populations and culture in the new millennium.
---
"Danzer consistently challenges our perspective of the past, urging us to look critically at each image. It's a worthy exercise: Sometimes the details say as much about us as they do about the events being depicted."--The State Journal-Register

"Read consecutively or dipped into at random, the entries offer a wide-ranging look at people, places, and events that figured in the fortunes of the Prairie State."--LifeTimes

"The handsome, quick-reference text you will reach for during commercials, during lulls in conversations, and while you're waiting at the depot for your train. Open it anywhere and be transported."--Illinois Heritage

"Thoughtfully presents a visual narrative of state history for a general audience."--The Annals of Iowa

"Illinois: A History in Pictures gives Chicago its due, but does not slight the rest of the state. . . . Illinois icons as diverse as Ronald Reagan, Jane Addams, Abraham Lincoln, and Mary Harris "Mother" Jones also appear, reminding readers that our neighbor to the West has contributed much to the American story."--Indiana Magazine of History
"Well researched, well illustrated, well organized, and well written, Illinois: A History in Pictures brings the reader through the history of Illinois from the prehistoric to the present. A significant and uplifting contribution to the state's history."--Michael D. Sublett, author of Township: Diffusion and Persistence of Grassroots Government in Illinois, 1850–2000

"This work reflects a novel and attractive approach to understanding the history and geography of Illinois. Developing a number of interesting themes and brimming with recent and exciting scholarship, this compelling work will seize readers and make them want to read more."--James E. Davis, author of Frontier Illinois
---
To order online:
//www.press.uillinois.edu/books/catalog/63rsf5xx9780252032882.html
To order by phone:
(800) 621-2736 (USA/Canada)
(773) 702-7000 (International)
Related Titles