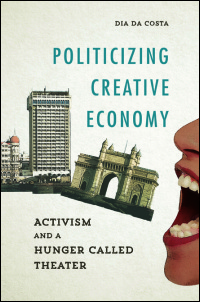 Politicizing Creative Economy
Activism and a Hunger Called Theater
Rethinking the theoretical and policy optimism around the arts and creative economy
Scholars increasingly view the arts, creativity, and the creative economy as engines for regenerating global citizenship, renewing decayed local economies, and nurturing a new type of all-inclusive politics. Dia Da Costa delves into the global development, nationalist and leftist/progressive histories shaping these ideas with a critical ethnography of two activist performance groups in India: the Communist-affiliated Jana Natya Manch, and Budhan Theatre, a community-based group of the indigenous Chhara people.
As Da Costa shows, commodification, heritage, and management discussions inevitably creep into performance. Yet the ability of performance to undermine such subtle invasions make activist theater a crucial site for considering what counts as creativity in the cultural politics of creative economy. Da Costa explores the precarious lives, livelihoods, and ideologies at the intersection of heritage projects, planning discourse, and activist performance. By analyzing the creators, performers, and activists involved--individuals at the margins of creative economy as well as society--Da Costa builds a provocative argument. Their creative economy practices may survive, challenge, and even reinforce the economies of death, displacement, and divisiveness used by the urban poor to survive.
---
"Da Costa provides powerful analytic tools to interrogate the ways activists such as Bird Song work within and against the complicities and potentialities of neoliberal creative economy discourse and practice. . . . A powerful feminist intervention."--Antipode

"Intersecting with political science and sociology as well as performance, this is a thorough critical analysis of the political and artistic environment in India. . . . Recommended."--Choice

"By exploring these two companies Da Costa challenges the optimism that surrounds creative economic theory by revealing the messiness of its realities for communities that hunger for the arts in the neoliberal present."--Theatre Journal

"Da Costa's work represents a milestone in the study of India's place in a globalized commodification of culture. Rather than to simply point to this phenomenon or critique easy targets of religion and nation, Da Costa's book offers depth, nuance, and analytical power. No consideration of India in and of globalization will be complete without it."--Contributions to Indian Sociology

"Herein lies the rich potential for scholars in theatre and performance to turn to this book as a way of reimagining our own praxis within creative-economy imperatives that promise emancipation, even while eradicating the creative hungers and labors that sustain us."--Theatre Journal
"Fills a gap in terms of uncovering the history of contemporary groups and locating their political work in the contexts of intersecting issues of class, caste, gender, and political power play. Importantly, it also carefully exposes the political conditions under which groups such as Jana Natya Manch and Budhan operate and the limitations and possibilities of their operations. Situating the work of the above-mentioned groups in the context of developmental discourses and within global networks of power (especially the role of UN organizations in defining 'creativity' and its implications for local contexts within India) adds an extremely important dimension to the work."--Nandi Bhatia, author of Performing Women/Performing Womanhood: Theatre, Politics, and Dissent in North India

"An ambitious book. . . . Offering both a critical analysis of the sentiment of optimism that so frequently surrounds the creative economy and a sympathetic critique of the compromised opportunities that this discourse allows for marginal and oppositional cultural groups in postcolonial India."--Geraldine Pratt, author of Families Apart: Migrant Mothers and the Conflicts of Labor and Love
Publication of this book was supported by funding from University of Alberta.
---
To order online:
//www.press.uillinois.edu/books/catalog/63tqg7gp9780252040603.html
To order by phone:
(800) 621-2736 (USA/Canada)
(773) 702-7000 (International)
Related Titles