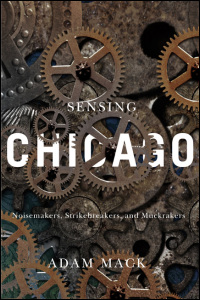 Sensing Chicago
Noisemakers, Strikebreakers, and Muckrakers
Awards and Recognition:
• Award of Superior Achievement, Illinois State Historical Society, 2016
Urban history from amidst the oleaginous perfume, greasy exudations, and black froth of a growing metropolis
A hundred years ago and more, a walk down a Chicago street invited an assault on the senses. Untiring hawkers shouted from every corner. The manure from thousands of horses lay on streets pooled with molasses and puddled with kitchen grease. Odors from a river gelatinous and lumpy with all manner of foulness mingled with the all-pervading stench of the stockyard slaughterhouses.
In Sensing Chicago, Adam Mack lets fresh air into the sensory history of Chicago in the nineteenth and early twentieth centuries by examining five case studies: the Chicago River, the Great Fire, the 1894 Pullman Strike, the publication of Upton Sinclair's The Jungle, and the rise and fall of the White City amusement park. His vivid recounting of the smells, sounds, and tactile miseries of city life reveals how input from the five human senses influenced the history of class, race, and ethnicity in the city. At the same time, he transports readers to an era before modern refrigeration and sanitation, when to step outside was to be overwhelmed by the odor and roar of a great city in progress.
---
"Spices up what too often can be stale conversations about Chicago history, culture, and literature." --Chicago Tribune

"An exemplary weaving together of sources. . . . A testament to the conjuring power of words."--Journal of Social History

"Sensing Chicago is highly evocative, grabbing and keeping the readers' attention with deliciously colorful accounts of industrial Chicago's sensory life."--Senses and Society

"In Sensing Chicago, Mack tells the familiar story of Chicago's rise to preeminence from a different perspective. Asking the questions and employing the methods common to sensory history, Mack presents an alternative vision of life in the industrial metropolis."--Journal of Interdisciplinary History

"A fascinating book. . . . Historians, prepare to reshuffle your notes!"--Indiana Magazine of History

"Sensing Chicago is expertly researched yet accessible to readers of all backgrounds, and a welcome addition to public and college library urban history shelves."--Midwest Book Review

"Sensing Chicago is courageous work in a new and theoretically fraught field. It will undoubtedly serve as an important springboard for future scholarship on how people interpreted the sensations created by the new urban environment."--The Journal of American History

"Sensing Chicago is a carefully crafted book that enlivens our understanding of Gilded Age and Progressive Era Chicago. Mack's book will be appealing to historians of the Midwest, and will hopefully prompt scholars to pay closer attention to sensory history and to ask new questions about the region's peoples and culture."--H-Net
"A significant contribution to urban studies and a persuasive application of sensory history methods and questions to a particularly appropriate case study. It changes our understanding of the history and particularly the experience of life in the industrial city."--James R. Barrett, author of The Irish Way: Becoming American in the Multiethnic City

"Adam Mack puts the senses and sensations at the center of this vivid exploration of social distinction and the regulation of the noxious in late nineteenth and early twentieth century Chicago. This highly evocative work in sensory studies highlights the politics of perception, the changing sensescape of the city, and some intriguing experiments in sensory rejuvenation."--David Howes, co-author of Ways of Sensing: Understanding the Senses in Society
---
To order online:
//www.press.uillinois.edu/books/catalog/64app6kb9780252039188.html
To order by phone:
(800) 621-2736 (USA/Canada)
(773) 702-7000 (International)
Related Titles