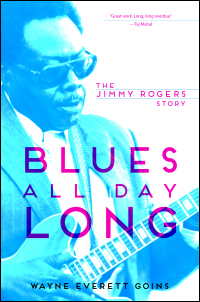 Blues All Day Long
The Jimmy Rogers Story
Awards and Recognition:
• Best Blues Book of the Year, Readers' Poll, Living Blues magazine, 2015
• Certificate of Merit, Awards for Excellence, Historical Research in Blues, Gospel, or R&B, Association for Recorded Sound Collections (ARSC), 2015
The life and music of one of the most influential Chicago blues figures
A member of Muddy Waters's legendary late 1940s–1950s band, Jimmy Rogers pioneered a blues guitar style that made him one of the most revered sidemen of all time. Rogers also had a significant if star-crossed career as a singer and solo artist for Chess Records, releasing the classic singles "That's All Right" and "Walking By Myself."
In Blues All Day Long, Wayne Everett Goins mines seventy-five hours of interviews with Rogers's family, collaborators, and peers to follow a life spent in the blues. Goins's account takes Rogers from recording Chess classics to playing Chicago clubs to a late-in-life renaissance that included new music, entry into the Blues Hall of Fame, and high-profile tours with Eric Clapton and the Rolling Stones. Informed and definitive, Blues All Day Long fills a gap in twentieth-century music history with the story of one of the blues' eminent figures and one of the genre's seminal bands.
---
"Goins gleans fresh facts and vivid memories from dozens of lively interviews to capture the energy and struggles of the Chicago Blues scene, from Maxwell Street to the Chess Records studios. . . . engrossing."--Booklist

"For blues aficionados, Goins provides a wealth of information on one of the underacknowledged masters of the Chicago sound."--Kirkus

"Wayne Everett Goins hasn't simply written a long-overdue biographical portrait of one of modern blues' most influential and gifted stylists; he's given us the context as well, with vivid, indelibly limned vignettes. . . . It brings to life not just musical history, but the feel, flavor and emotional resonance of the times during which this history was lived."--Living Blues

"Blues All Day Long is suffused with the same spirit as Rogers' style of guitar-playing: tasteful, relaxed and stylish. . . . A mature and worthy biography."--De Blueskrant

"Blues All Day Long is a compelling study of an artist whose trajectory went from informal networks in the black community to the rigid and grueling strictures of the music industry." --Journal of Folklore Research
"Great work. Long, long overdue."--Taj Mahal

"A great read. I loved it. What a nice tribute to the great Jimmy Rogers."--Charlie Musselwhite

"Jimmy Rogers was the most under-appreciated of all the postwar Chicago blues pioneers--until now. Deep, heartfelt, and immaculately researched, Blues All Day Long sets the record straight. A major contribution to blues lore."--Jas Obrecht, former editor, Guitar Player magazine

"Blues All Day Long bestows Jimmy Rogers with all the respect and attention he has long deserved for his integral role in the development of classic Chicago blues. Author Wayne Goins is uniquely qualified to tell the story of the man and his music, not only because of his expertise as an academic and as a guitarist, but because of the cultural pride he carries as a native of the same vibrant South Side Chicago turf that was the home of Jimmy Rogers."--Jim O'Neal, blues producer and co-founder of Living Blues magazine and co-editor of The Voice of the Blues

"Jimmy Rogers' life and music are critical parts of blues history. He was an affirmation of the beauty of true ensemble playing and the enduring power of simplicity and directness, and his repertoire has become central to the canon. Wayne Goins has done an exhaustive, diligent, and discerning job of shedding light on the contributions of a man who helped define Chicago blues. Both the subject and the treatment are worthy of celebration."--Dick Shurman, blues producer and historian

"Since Paul Oliver established the accepted template for blues in regard to timeline, genre, and geographic location, the real work left to blues writers/researchers has been to profile the lives and careers of the individuals who played and sang the blues and those that recorded and distributed the music. With his book Blues All Day Long, Goins adds another valuable tile to the overall mosaic of postwar Chicago blues."--Steve Cushing, host of Blues before Sunrise and author of Pioneers of the Blues Revival
---
To order online:
//www.press.uillinois.edu/books/catalog/64kkb4wd9780252038570.html
To order by phone:
(800) 621-2736 (USA/Canada)
(773) 702-7000 (International)
Related Titles