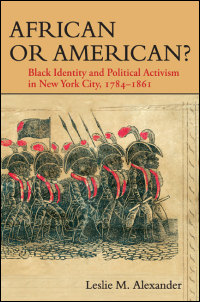 African or American?
Black Identity and Political Activism in New York City, 1784-1861
Awards and Recognition:
Cheikh Anta Diop Award for Outstanding Scholarship in the field of Africana Studies, National Council for Black Studies (NCBS), 2010
The struggle for black identity in antebellum New York
During the early national and antebellum eras, Black leaders in New York City confronted the tenuous nature of Northern emancipation. Despite the hope of freedom, black New Yorkers faced a series of sociopolitical issues including the persistence of Southern slavery, the threat of forced removal, racial violence, and the denial of American citizenship. Even efforts to create community space within the urban landscape, such as the African Burial Ground and Seneca Village, were eventually demolished to make way for the city's rapid development. In this illuminating history, Leslie M. Alexander chronicles the growth and development of Black activism in New York from the formation of the first Black organization, the African Society, in 1784 to the eve of the Civil War in 1861. In this critical period, Black activists sought to formulate an effective response to their unequal freedom. Examining Black newspapers, speeches, and organizational records, this study documents the creation of mutual relief, religious, and political associations, which Black men and women infused with African cultural traditions and values.
As Alexander reveals, conflicts over early Black political strategy foreshadowed critical ideological struggles that would bedevil the Black leadership for generations to come. Initially, Black leaders advocated racial uplift through a sense of communalism and connection to their African heritage. Yet by the antebellum era, Black activists struggled to reconcile their African identity with a growing desire to gain American citizenship. Ultimately, this battle resulted in competing agendas; while some leaders argued that the Black community should dedicate themselves to moral improvement and American citizenship, others began to consider emigrating to Africa or Haiti. In the end, the Black leadership resolved to assert an American identity and to expand their mission for full equality and citizenship in the United States. This decision marked a crucial turning point in Black political strategy, for it signaled a new phase in the quest for racial advancement and fostered the creation of a nascent Black Nationalism.
---
"Alexander brilliantly examines this topic for black people in antebellum New York City. . . . An important contribution. Highly recommended."--Choice

"[Alexander's] survey of black leadership is excellent, her sensitivity to local black politics is admirable, and her tracing of the varied black investment in emigrations is . . . correct and adds to our understanding of antebellum reform and nationalism."--American Historical Review

"A powerful reminder that racial discrimination--and the struggle against it--cut across lines of region and section in the American past."--The Journal of American History

"A ripping good story."--Canadian Journal of History

"A rich narrative showing black New Yorkers' complex debates and organizing efforts to gain freedom, citizenship, and equality in the early national and antebellum northern United States."--Journal of American Ethnic History
"African or American? breaks new ground in its sustained attention to principal but little-known black community organizations and leaders in New York City. The comprehensive, in-depth treatment of the Five Points district, Seneca Village's relationship to Central Park, the Negro's burial ground, and more make this book exceptional. It is the best discussion to date of being an American in relation to antebellum blacks that I have read."--Sterling Stuckey, author of Going through the Storm: The Influence of African American Art in History

"Focusing on the meaning of African heritage, Black Nationalism, community, and African emigration in New York City during the antebellum period, Alexander provides a compelling argument for the emergence of African heritage and identity and charts the waxing and waning of its meaning in the black community."--Leslie M. Harris, author of In the Shadow of Slavery: African Americans in New York City, 1626-1863
---
To order online:
//www.press.uillinois.edu/books/catalog/64skb3rz9780252033360.html
To order by phone:
(800) 621-2736 (USA/Canada)
(773) 702-7000 (International)
Related Titles