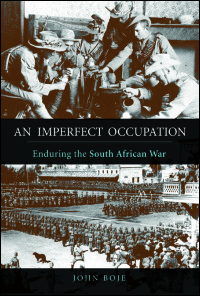 An Imperfect Occupation
Enduring the South African War
Everyday life under martial law during the Anglo-Boer War
The South African War (1899–1902), also called the Boer War and Anglo-Boer War, began as a conventional conflict. It escalated into a savage irregular war fought between the two Boer republics and a British imperial force that adopted a scorched-earth policy and used concentration camps to break the will of Afrikaner patriots and Boer guerrillas.
In An Imperfect Occupation, John Boje delves into the agonizing choices faced by Winburg district residents during the British occupation. Afrikaner men fought or evaded combat or collaborated; Afrikaner women fled over the veld or submitted to life in the camps; and black Africans weighed the life or death consequences of taking sides. Boje's sensitive analysis showcases the motives, actions, and reactions of Boers and Africans alike as initial British accommodation gave way to ruthlessness. Challenging notions of Boer unity and homogeneity, Boje illustrates the precarious tightrope of resistance, neutrality, and collaboration walked by people on all sides. He also reveals how the repercussions of the war's transformative effect on Afrikaner identity plays out in today's South Africa.
Readable and compassionate, An Imperfect Occupation provides a dramatic account of the often overlooked aspects of one of the first "modern" wars.
---
"Oral history and social history at its best. . . . This fascinating study recounts the reactions of ordinary people in a Free State community, from those committed to the Boer cause to those who were ambivalent or neutral, or who even collaborated with the British."--Johannesburg Sunday Times

"[An] outstanding contribution to our historiography."--Pretoria News

"This work will be appreciated by any reader who . . . has struggled to understand how the Boers and the British emerged so quickly from this bitter conflict into cooperative agreement."--H-Net Reviews

"Those with an interest in South African history, the Boer War, and the history of occupation will find this a very useful read."--NYMAS Reviews
"A superb and original contribution to our knowledge of the South African War. The author has chosen a regional study to penetrate beyond the mythology of past historiography to expose the real and individual experiences of ordinary men and women from the Winburg district of the Orange Free State. It is an honest, thoroughly researched study of a community torn by war, civil war, and racism. Apart from Boers fighting for their republic's independence and Boer women caught up in the conflict, it was a base for Boers collaborating with the British and a base for an armed black corps in British military service. This adds fascinating dimensions to the topic."--Fransjohan Pretorius, professor emeritus of history, University of Pretoria

"This book is a multi-dimensional and exceptionally vivid analysis of a Free State community during the war. It serves as a model of its kind and adds significantly to the existing historiography."--Albert Grundlingh, author of The Dynamics of Treason: Boer Collaboration in the South African War of 1899-1902

"Boje's examination of the Winburg district provides an excellent case study of life in the Orange Free State during the South African War."--Stephen M. Miller, University of Maine
---
To order online:
//www.press.uillinois.edu/books/catalog/65qrk6tb9780252039560.html
To order by phone:
(800) 621-2736 (USA/Canada)
(773) 702-7000 (International)
Related Titles