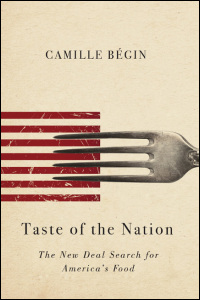 Taste of the Nation
The New Deal Search for America's Food
Awards and Recognition:
• ASFS Book Award, Association for the Study of Food and Society, 2017
The role of taste in a culinary transformation
During the Depression, the Federal Writers' Project (FWP) dispatched scribes to sample the fare at group eating events like church dinners, political barbecues, and clambakes. Its America Eats project sought nothing less than to sample, and report upon, the tremendous range of foods eaten across the United States.
Camille Bégin shapes a cultural and sensory history of New Deal-era eating from the FWP archives, describing in mouth-watering detail how Americans tasted their food. Bégin explores how likes and dislikes, cravings and disgust operated within local sensory economies that she culls from the FWP's vivid descriptions, visual cues, culinary expectations, recipes and accounts of restaurant meals. She also illustrates how nostalgia, prescriptive gender ideals, and racial stereotypes shaped how the FWP was able to frame regional food cultures as "American."
---
"Recommended."--Choice

"An astute sensory history rooted in a firm theoretical base. . . . Bégin's lively account, complemented with striking photographs, captures a moment when the nation pioneered a new understanding of its culinary heritage. Bégin offers scholars and general readers much to savor."--Agricultural History

"Taste of the Nation offers fascinating insights into how regional culinary traditions were incorporated into the New Deal's nation-building project."--Journal of Southern History

"Taste of the Nation is most useful--and it is very useful--as a model for ways to apply sensory history in the realm of food studies. It offers theoretical ways of bridging ideas and flavors, the work that seems often unfinished in food studies."--H-Net
"A fascinating archive on how American eating shifted during the years of the Depression. It provides a kind of hidden history of early-twentieth-century eating, documenting the role of different non-white middle class groups in shaping the American palate in ways that continue to resonate."--David E. Sutton, author of The Restaurants Book: Ethnographies of Where We Eat

"Who knew that modern food writing originated in the New Deal's Federal Writers' Project? Camille Begin convincingly shows how the FWP's sensory concerns linked food to race and place. Her lively account recognizes the importance of food writing in drawing the boundaries that transform modern culinary nationalism, ethnicity and regionalism into 'sensory economies.'"--Donna Gabaccia, author of We Are What We Eat: Ethnic Food and the Making of Americans

"Gives us the best of both worlds: sharp, scholarly, critique, essential to solid research and good teaching; and rich, sensory, description, conveyed with exquisite writing, where you can smell the acrid smoke from the wood stove, hear the clatter of the cutlery and the screeching of the dining room chairs. It is a text I relished and learned much from, about American gustatory nationalism, and its relationship to race and gender in New Deal food writing."--Krishnendu Ray, author of The Ethnic Restaurateur
---
To order online:
//www.press.uillinois.edu/books/catalog/65tkf8yq9780252040252.html
To order by phone:
(800) 621-2736 (USA/Canada)
(773) 702-7000 (International)
Related Titles