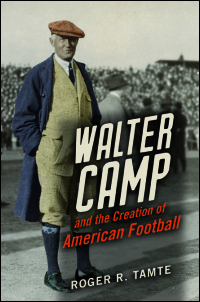 Walter Camp and the Creation of American Football
The man who turned a muddy scrum into athletic poetry
Walter Camp made the development of football—indeed, its very creation—his lifelong mission. From his days as a college athlete, Camp's love of the game and dedication to its future put it on the course that would allow it to seize the passions of the nation.
Roger R. Tamte tells the engrossing but forgotten life story of Walter Camp, the man contemporaries called "the father of American football." He charts Camp's leadership as American players moved away from rugby and for the first time tells the story behind the remarkably inventive rule change that, in Camp's own words, was "more important than all the rest of the legislation combined." Trials also emerged, as when disputes over forward passing, the ten-yard first down, and other rules became so public that President Theodore Roosevelt took sides. The resulting political process produced losses for Camp as well as successes, but soon a consensus grew that football needed no new major changes. American football was on its way, but as time passed, Camp's name and defining influence became lost to history.
Entertaining and exhaustively researched, Walter Camp and the Creation of American Football weaves the life story of an important sports pioneer with a long-overdue history of the dramatic events that produced the nation's most popular game.
---
"Author Roger R. Tamte put together a well-researched book about the life of Walter Camp."--Knup Sports

"Embedded in this biography is a fantastic narrative history of how and why football exploded in popularity on college campuses and in American popular culture. Superbly researched and well written, this book will appeal to sports enthusiasts and scholars alike. Highly recommended." --Choice

"Tamte skillfully weaves myriad details of two interconnected stories. . . . A definitive study." --Journal of American Culture

"In Roger R. Tamte's expansive review of Camp's life and contributions, a reader gleans insight into Camp's formative years up through his death." --Journal of Sport History
"Tamte has produced a well-researched account of Walter Camp's wide-ranging life and careers that particularly included his actively working on the early development of the game of American football, and his many years at Yale. This is an easy-to-read and valuable look at one of sport's amazing pioneers."--Raymond Schmidt, College Football Historical Society

"This is a painstakingly researched and wonderfully written book on the most important individual in the development of American football, Walter Camp."--Ronald A. Smith, author of Pay for Play: A History of Big-Time College Athletic Reform
---
To order online:
//www.press.uillinois.edu/books/catalog/66fkm2qp9780252041617.html
To order by phone:
(800) 621-2736 (USA/Canada)
(773) 702-7000 (International)
Related Titles