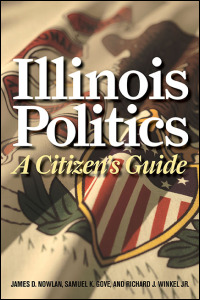 Illinois Politics
A Citizen's Guide
A practical guide to Illinois politics, from Springfield to Chicago, Lincoln to Madigan to Blagojevich, and beyond
Considered a microcosm of the nation, the state of Illinois stretches almost four hundred miles from its northern limit at the Wisconsin line to its southern tip at Cairo, nestled between Kentucky and Missouri. Its political culture is as intriguing as the state is long.
Illinois has produced presidents and leading members of Congress. It also has a long history of political corruption, including, in recent years, the federal indictments of two consecutive governors. The population of the state is exceptionally diverse, with a significant number of new immigrants. Its political allegiance, once firmly Republican, has trended ever more Democratic. Illinois can be divided neatly into three distinct regions: Chicago, the suburban collar surrounding the city, and the ninety-five downstate counties.
Based on the research and experience of respected veterans of Illinois politics, this book shows how the government runs, how politics operates, and what obstacles and opportunities exist for change. It explains how power is exercised and how parties compete for it. For engaged citizens, scholars, and students, Illinois Politics: A Citizen's Guide is a timely and much-needed roadmap for positive change.
Illinois Politics: A Citizen's Guide sheds light on these important questions and more:
Why has corruption flourished in Illinois even as reformers struggle for ethical change?
How do the three regions of the state compete for resources?
How does the legislature work?
When did the state become so blue?
What powers do the governor and other elected officials really have?
How are judges appointed to and removed from the bench?
Why does Illinois have more units of government than any other state?
How did higher education lose ground as a funding priority?
What role did politics play in the current budget deficit?
And how can Illinois move beyond its status as the "most average state in the nation"?
---
"Educators, journalists, legislators – all who care about Illinois government and its role in shaping a better future for our state – should read this book."--Jim Broadway, Publisher, State School News Service

"The story between the covers tells a gripping tale of the state's past and present, and will unnerve readers about prospects for the future."--Illinois Times
"The best book on Illinois politics and government. With inside information and interviews never before available, Illinois Politics: A Citizen's Guide will be used by scholars, students, and citizens for many years to come."--Dick Simpson, former Chicago alderman and author of Inside Urban Politics: Voices from America's Cities and Suburbs
---
To order online:
//www.press.uillinois.edu/books/catalog/66fqb7wk9780252077029.html
To order by phone:
(800) 621-2736 (USA/Canada)
(773) 702-7000 (International)
Related Titles