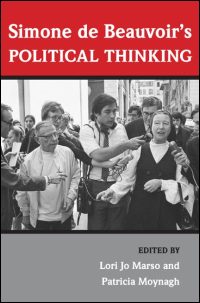 Simone de Beauvoir's Political Thinking
The first book devoted exclusively to Beauvoir's politics
By exploring the life and work of the influential feminist thinker Simone de Beauvoir, this book shows how each of us lives within political and social structures that we can--and must--play a part in transforming. It argues that Beauvoir's careful examination of her own existence can also be understood as a dynamic method for political thinking.
As the contributors illustrate, Beauvoir's political thinking proceeds from the bottom up, using examples from individual lives as the basis for understanding and transforming our collective existence. For example, she embraced her responsibility as a French citizen as making her complicit in the French war against Algeria. Here, she sees her role as an oppressor. In other contexts, she looks to the lives of individual women, including herself, to understand the dimensions of gender inequality.
This volume's six tightly connected essays home in on the individual's relationship to community, and how one's freedom interacts with the freedom of other people. Here, Beauvoir is read as neither a liberal nor a communitarian. The authors focus on her call for individuals to realize their freedom while remaining consistent with ethical obligations to the community. Beauvoir's account of her own life and the lives of others is interpreted as a method to understand individuals in relations to others, and as within structures of personal, material, and political oppression. Beauvoir's political thinking makes it clear that we cannot avoid political action. To do nothing in the face of oppression denies freedom to everyone, including oneself.
---
"Freedom, choice, responsibility. These words form the essence of Beauvoir's political thought as discussed in the six essays collected in this enlightening book. . . . They provide an extensive analysis of Beauvoir's ethics and highlight the urgency she felt to resist oppression. . . . Highly recommended."--Choice

"This work contains several excellent, wide-ranging, but focused essays . . . it provides us with much to think and rethink in relation to Beauvoir's methodology, her ethics, and her eventual entrance into radical politics in the Algerian War period."--JAC
"Bringing together a variety of essays from well-respected scholars, Simone de Beauvoir's Political Thinking makes a significant contribution to feminist theory and Beauvoir studies. Through these insightful interpretations of her work, Beauvoir emerges as a classical thinker whose theories on the social construction of the body are still relevant and important today."--Judith Grant, author of Fundamental Feminism

"The central achievement of this volume is to recover Beauvoir's work for feminist political theory. Especially noteworthy is the attempt to wrest from Beauvoir a way of thinking about politics which emphasizes singularity and refuses to subsume the particular under the universal. Taken together, the essays go a long way in making the case for Beaufoir as a feminist political theorist in her own right, a thinker who brilliantly grasped the vicissitudes of the human condition and the contingency of human action."--Linda Zerilli, Professor of political science, Northwestern University.
---
To order online:
//www.press.uillinois.edu/books/catalog/66gha8kd9780252031137.html
To order by phone:
(800) 621-2736 (USA/Canada)
(773) 702-7000 (International)
Related Titles