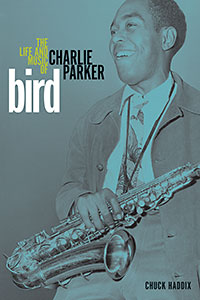 Bird
The Life and Music of Charlie Parker
An in-depth portrait of the troubled jazz genius
Saxophone virtuoso Charlie "Bird" Parker began playing professionally in his early teens, became a heroin addict at 16, changed the course of music, and then died when only 34 years old. His friend Robert Reisner observed, "Parker, in the brief span of his life, crowded more living into it than any other human being." Like Louis Armstrong, Duke Ellington, Miles Davis, and John Coltrane, he was a transitional composer and improviser who ushered in a new era of jazz by pioneering bebop and influenced subsequent generations of musicians.
Meticulously researched and written, Bird: The Life and Music of Charlie Parker tells the story of his life, music, and career. This new biography artfully weaves together firsthand accounts from those who knew him with new information about his life and career to create a compelling narrative portrait of a tragic genius.
While other books about Parker have focused primarily on his music and recordings, this portrait reveals the troubled man behind the music, illustrating how his addictions and struggles with mental health affected his life and career. He was alternatively generous and miserly; a loving husband and father at home but an incorrigible philanderer on the road; and a chronic addict who lectured younger musicians about the dangers of drugs. The preeminent hipster, he used his considerable charm to con friends and strangers alike. Above all he was a musician who overcame humiliation, disappointment, and a life-threatening car wreck to take wing as Bird, a brilliant improviser and composer.
With in-depth research into previously overlooked sources, Chuck Haddix corrects much of the misinformation and myth about one of the most influential musicians of the twentieth century. Illustrated with several never-before-seen images, Bird: The Life and Music of Charlie Parker chronicles Parker's trials and triumphs: his struggles in Kansas City; his collaboration with Dizzy Gillespie that led to the development of bebop; his incarceration in the California State Mental Hospital at Camarillo; his rise to international acclaim; his stormy relationship with his fourth wife Chan; the death of his daughter Pree; and his untimely death from a life of excess. This is the story of Charlie "Bird" Parker.
---
"Impressive detail, a notable addition to the extensive Music in American Life Series."--Booklist

"A well-researched and rapidly consumed book."--AllAboutJazz.com

"A detailed and well-proportioned linear narrative. Assiduous about assigning dates, where possible, to previously vague areas of chronology."--Jazzwise

"Clearly the most complete account of the saxophonist's early life and career. What emerges from Bird is a much more human tale that we have not heard before."--Popmatters.com

"As comprehensive and appreciative as any of the past Parker literature."--The Santa Fe New Mexican

"Bird makes extensive use of primary-source material, much of it hitherto unknown. . . . It sets forth the known facts of Parker's brief life in a way that is unusually thorough for so concise a book."--Commentary

"A straightforward, no-frills chronicle of the alto saxophonist. Thanks to diligent research, it pieces together the disparate fragments of Parker's turbulent private life into a persuasive, coherent and convincing narrative."--Record Collector Magazine

"A studiously researched overview of the man, it underscores how Parker's life was as concise as his influence was infinite."--Los Angeles Magazine "Balancing historical research and anecdotal information, Haddix artfully crafts a rich context for understanding the musical genius—-and enigma—that was Bird. . . . the book's pacing, numerous quotes from other musicians, and references to legal practices of the time make it hard to put down. Highly recommended."--Choice
"Finally, a biography that includes a detailed account of Bird's formative years. One feels that Haddix's research may open new discussions about this flawed genius, and the wonderfully detailed aspects of Parker's early life present a hitherto unknown aspect of a tragically short but immensely influential existence. Almost sixty years since Parker's death, this book is surprisingly the first comprehensive account of the life of one of the last century's foremost and yet enigmatic musicians. Essential reading for any jazz musician."--Llew Walker, creator of www.birdlives.co.uk

"I couldn't put this book down! This is a must read! A very important book. Congratulations to Chuck Haddix for bringing more clarity to the life of Charlie Parker."--Bobby Watson, Director of Jazz Studies, UMKC Conservatory of Music and Dance

"This is a wonderful, loving, yet unsparing look at Bird's life. Haddix's research is stunning."--Kim Parker
---
To order online:
//www.press.uillinois.edu/books/catalog/66xkc6nx9780252037917.html
To order by phone:
(800) 621-2736 (USA/Canada)
(773) 702-7000 (International)
Related Titles