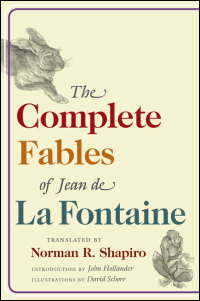 The Complete Fables of Jean de La Fontaine
Awards and Recognition:
Lewis Galantière Prize, American Translators Association, 2008
Inspired new translations of the work of one of the world's greatest fabulists
Charming and elegant, Jean de La Fontaine's (1621-1695) animal fables depict sly foxes and scheming cats, vain birds and greedy wolves, all of which subtly express his penetrating insights into French society and the beasts found in all of us. Norman R. Shapiro has been translating La Fontaine's fables for over twenty years, capturing the original works' lively mix of plain and archaic language. This newly complete collection is destined to set the English standard for the oeuvre of one of the world's greatest fabulists.
---
"Shapiro's skills, and certainly his prolific output as a translator of French poetry, are unsurpassed in our time."--St. Louis Post-Dispatch

"Shapiro has been translating La Fontaine for forty years, and his versions are ingenious."--Parnassus: Poetry in Review

"That Jean de La Fontaine problematized the fable genre is now well known, thanks to American, British, and German criticism of the late twentieth century. . . . Now comes Norman Shapiro, whose La Fontaine not only coincides with current understanding of the original but also succeeds as poetry in English: subtly nuanced, dense, resonant, and compellingly re-readable. More than a prize, this rendering deserves a place of honor . . . in the classical canon 'made new' for Frenchless readers of our time and place."--Virginia Quarterly Review

"Reading Jean de La Fontaine's fables is a double pleasure. These short moralistic narrative poems are not only witty, but they also evince a wonderful . . . poetic skill. And reading Norman Shapiro's translation doubles the pleasure one more time. . . . The lines of varying lengths create a rhythm that has less of a monotonous chanting quality and more of the irregularities of natural speech. What is remarkable here is that Shapiro manages to recreate this in English. . . . The glory and the talent of Jean de La Fontaine were certainly well served in this translation of the fables."--Translation Journal

"The translations are not literal but instead convey the spirit of the 17th-century writer. The volume includes . . . extensive notes offering comments and explicating sources, references, translation difficulties, and so on; and lovely illustrations by David Schorr. Highly recommended."--Choice

"Ably translated from the French by Shapiro, the voices of the animals, birds, insects (and even the occasional human) who populate La Fontaine's fables come alive in rhyme and rhythm that develop the traditional tales."--Library Journal

"In Shapiro's translations, meaning and sound patterns flow into each other with metrical control and create La Fontaine's soothing melody, which is reinforced through a never-ending wit and humor to articulate and to overcome his distaste for human folly."--Translation Review
"It is a pleasure to open a book of verse as sure and sly as these translations by Norman Shapiro. He gets the tune right and the tone right, and manages to echo both the folk wisdom and the poker-faced formality of the originals."--Seamus Heaney, on Shapiro's Fifty Fables of La Fontaine

"A wonderfully lively and resourceful translator, who knows how to put French wit and charm into English."--Richard Wilbur, former Poet Laureate of the United States

"Among numerous translations of La Fontaine, Norman Shapiro's work stands out for conveying the spirit and equivalent poetic forms of the Fables without succumbing to the trap of literal rendering or the frustration of transporting unusual rhymes into awkward English. Shapiro's language sparkles with wit, word play, and even unexpected archaisms, all in keeping with La Fontaine's own style. Delightful!"--Carroll F. Coates, translator of Waiting for the Vote of the Wild Animals
---
To order online:
//www.press.uillinois.edu/books/catalog/66yzk4qd9780252031441.html
To order by phone:
(800) 621-2736 (USA/Canada)
(773) 702-7000 (International)
Related Titles