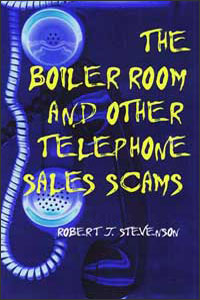 The Boiler Room and Other Telephone Sales Scams
A covert ethnography of white-collar crime
Sure to make you think twice before responding to the next telephone sales call you receive, this volume explores why telephone boiler rooms and other scams thrive and how fraudulent techniques and deception migrate to and from conventional businesses.
The Boiler Room and Other Telephone Sales Scams is grounded in the nine years Robert Stevenson spent working covertly as a "participant-observer" in telephone rooms (the ethical implications of which he discusses in an epilogue). As Stevenson details boiler room hierarchy, you'll learn why all boilers are telephone salesmen but not all telephone salesmen are boilers. You'll read about the "heat" rising in rooms where experienced pitchmen use tried-and-true manipulative techniques to overcome objections to sales. And you'll marvel at Stevenson's insider knowledge of product houses, service shops, and other aspects of a major industry in which both employees and customers are in daily peril—the former of losing their jobs and the latter of losing their money.
The Boiler Room and Other Telephone Sales Scams is required reading for anyone who's ever picked up a telephone and been asked to buy a product or a service. It's also an invaluable study of a widespread form of deviance and occupational crime, essential reading for students of criminology and the sociology of occupations.
---
"[A] guide to the shifty, shady shadow land on the edge of American capitalism." — Chicago Reader
"Stevenson offers an insider's view of the organization of fraud, the duality of marks-–those doing the phoning and those on the other end of the receiver-–and the staging, manipulation, and concealment devices used by those putting up the store. This is a fine contribution to the sociology of deviance, occupations, and fieldwork." — Robert R. Faulkner, author of The Social Organization of Conspiracy
To order online:
//www.press.uillinois.edu/books/catalog/67cff7tt9780252069345.html
To order by phone:
(800) 621-2736 (USA/Canada)
(773) 702-7000 (International)
Related Titles