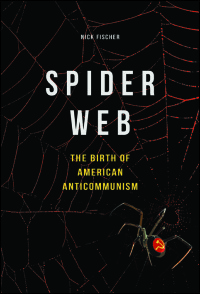 Spider Web
The Birth of American Anticommunism
How conservatives conjured the Communist Menace between the wars
The McCarthy-era witch hunts marked the culmination of an anticommunist crusade launched after the First World War. With Bolshevism triumphant in Russia and public discontent shaking the United States, conservatives at every level of government and business created a network dedicated to sweeping away the "spider web" of radicalism they saw threatening the nation.
In this groundbreaking study, Nick Fischer shines a light on right-wing activities during the interwar period. Conservatives railed against a supposed Soviet-directed conspiracy composed of socialists, trade unions, peace and civil liberties groups, feminists, liberals, aliens, and Jews. Their rhetoric and power made for devastating weapons in their systematic war for control of the country against progressive causes. But as Fischer shows, the term spider web far more accurately described the anticommunist movement than it did international communism. Fischer details how anticommunist myths and propaganda influenced mainstream politics in America, and how the right's efforts paved the way for the McCarthyite 1950s and augured the conservative backlash that would one day transform American politics.
---
"Refreshingly original."--New York Review of Books

"Fischer expands our perspective of anti-communism temporally, shifting it to these late nineteenth-century roots, and deepens our understanding of it to contain clearly, and from its earliest origins, a laissez faire, open shop agenda. . . . This book will be welcomed and appreciated by those interested not only in the history of communism but also in understanding the limits of American politics in the twentieth century."--American Communist History

"Fischer's sweep is broad; his results are impressive. Recommended."--Choice
"Nick Fischer makes a major contribution to the growing literature on American antisubversive organizations. Spider Web establishes, through rigorous and original research, that anticommunism was intimately connected with private and public networks that promoted antilabor laws, eugenics, and immigration restriction."--Phillip Deery, author of Red Apple: Communism and McCarthyism in Cold War New York

"Fischer has produced a very original, well-researched, and well-written account of how a relatively small but highly influential group of interlocking elites, including political and military intelligence officials, wealthy businessmen, members of 'patriotic' societies, and other conservatives, worked successfully to keep alive highly exaggerated fears of communism that had caused a national panic during the 1919-20 'red scare.'"--Robert Justin Goldstein, author of Political Repression in Modern America
Publication of this book is supported by grants from the Australian Academy of the Humanities and from Monash University.
---
To order online:
//www.press.uillinois.edu/books/catalog/67dhc4mf9780252040023.html
To order by phone:
(800) 621-2736 (USA/Canada)
(773) 702-7000 (International)
Related Titles